Polenta Lasagna - Gluten Free Vegetarian Dish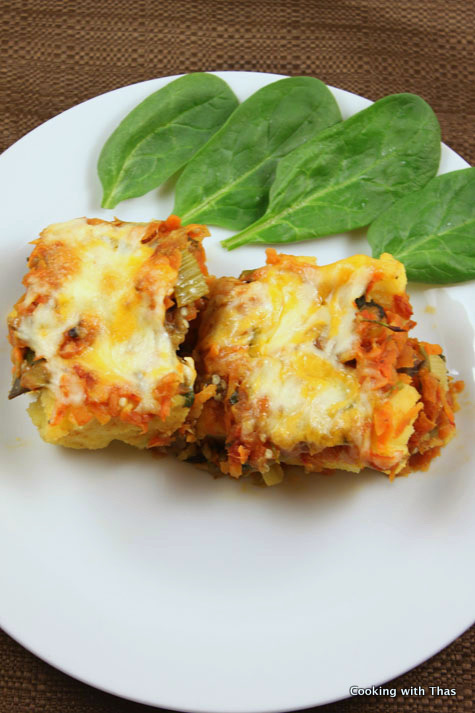 Cornmeal, yellow- 2 cups
Water- 3½ cups (or use 1½ cups milk and 2 cups water)
Ground pepper- ¼ tsp
Salt- to taste
Note:you could even add parmesan cheese to make it more flavorful or any herb seasonings
For making vegetarian topping
Olive oil- 2 tbsp
Carrot, grated- 2, large
Celery, cut very small-2 stalks
Egg plant, diced small- ½ of the large eggplant
Mushrooms, diced- 1½ cups
Oregano, dried- 1 tsp
Tomato paste- 3tbsp
Tomato sauce, low sodium- ¾ cup
Ground pepper- ¼ tsp
Cilantro, chopped- 2 handful
Cheddar Cheese or mixed cheese, grated
Making polenta is very similar to making semolina, when you combine cornmeal or semolina in boiling water or milk it will thicken and and can be spread on a pan to set.
In a large saucepan, boil water and season with salt and ground pepper.
When the water starts to boil, slowly add cornmeal and keep stirring in the same direction without forming any lumps.
Keep stirring till you have added all the cornmeal and break through any lumps that has formed.
Stir and cook till the polenta begins to pull away from the pan.
Remove from the heat and let cool down a bit.
Line a square shaped baking pan with parchment paper.
Grease little butter on the parchment paper and evenly spread the polenta using a spatula.
Keep it in the refrigerator for 30 minutes or so till it has set well.
In the meantime, let's make the hearty vegetarian topping.
Heat a large pan, add olive oil and add grated carrot, celery, eggplant and mushrooms.
Cover and let the veggies turn tender.
Sprinkle dried oregano and ground pepper over it and cook for some more time.
When the veggies have cooked well but not mashed up, add tomato paste, combine well.
Add tomato sauce, combine well and cook for a few more minutes.
Taste and add more salt or ground pepper if needed.
Sprinkle cilantro over it and remove from the heat, keep aside.
Take the polenta out from the refrigerator, it should be well set by now.
Using a knife dipped in hot water, cut into 3 inch slices just like you cut cakes, keep aside.
Grease a large oven dish with non-stick cooking spray.
Layer the polenta slices evenly to make a bed on the bottom of the dish.
Layer the veggie topping over it and evenly spread it.
Generously spread cheese over it.
Repeat this to make one more set.
At the top, garnish with cheese.
Preheat the oven to 400 F.
Place the prepared polenta lasagna into the oven on the bottom rack and bake for 15 minutes.
If you want to make the cheese browned, you can broil it after 15 minutes of baking.
Set the oven to broil mode, keep it in low heat and place the baked polenta lasagna on the top rack and broil it for just 1 to 11/2 minutes.
If you broil it for more than 1 or 2 minutes, the cheese will burn, so be very careful while broiling.
Remove from the oven, let cool down a bit.
Using a knife, cut into large slices and serve hot.
For making non-veg version: make the ground beef topping, here is the recipe.
You can add your favorite seasonings, herbs, or cheese while making polenta.
Recipe by
Cooking with Thas - Healthy Recipes, Instant pot, Videos by Thasneen
at https://www.thasneen.com/cooking/polenta-lasagna-gluten-free/