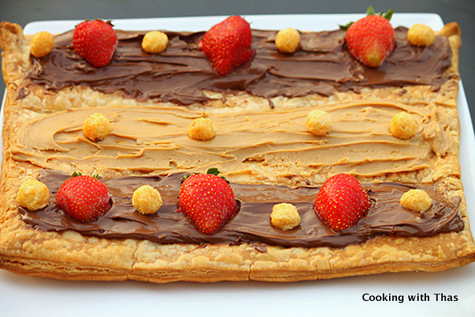 Quick Fix puff pastry dessert…
This is an easy to make dessert with puff pastry. I didn't make the puff pastry from scratch, may be sometime I'll have to make it from scratch and post the recipe. In Summer, most Friday evenings, we will be out in our backyard grilling. Yesterday, I grilled Caribbean chicken legs and served it with salad and grilled rosemary potatoes. For a sweet ending, I had to make a dessert. I wasn't up for anything complicated though. I had frozen puff pastry sheets, and I knew it that's going to make a delicious dessert. I thawed the sheets, baked it till crispy and smeared with Nutella and peanut butter, topped with strawberries, corn pops and chocolate chips.
Crispy puff pastry smeared with Nutella and peanut butter, tasted delish. You can add any kinds of toppings and spread of your choice.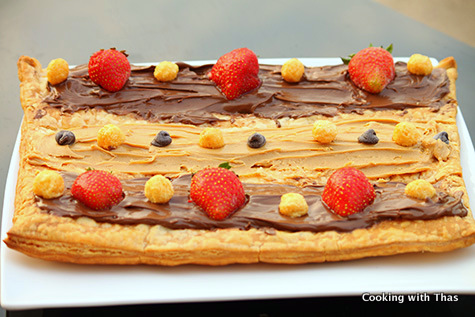 Easy Puff Pastry Dessert
Ingredients
Puff Pastry sheet- 1 or according to your needs
Nutella
Peanut butter
Strawberries, halved
Corn Pops
Chocolate chips
Or use any kind of your favorite toppings
Instructions
Thaw the frozen puff pastry sheet for 15 minutes.
Preheat oven to 400 F or 200 C.
Place the thawed puff pastry sheet on a baking sheet.
Bake for 20 minutes till golden and crispy.
Remove the baked puff pastry sheet from the oven, let cool down for a few minutes.
Smear with Nutella, peanut butter or your favoirte spread.
Top with strawberries, corn pops and chocolate chips or with your favoirte fruits, nuts, chocolates etc.
Enjoy the crispy and sweet goodness.