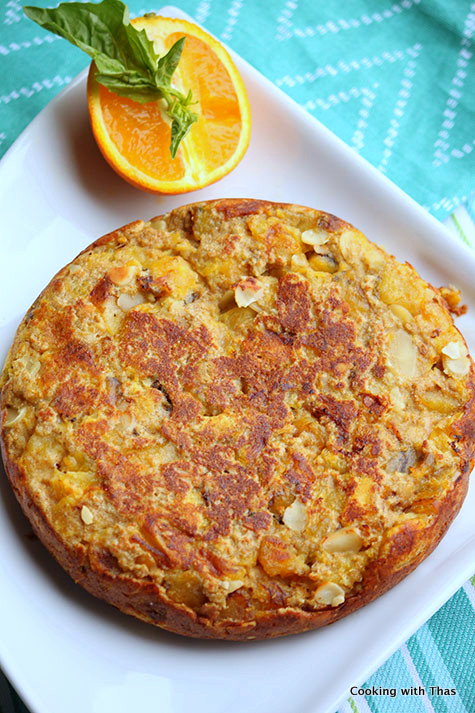 4 ingredients and you can make the easiest and healthiest plantain bread cake…
Plantain belongs to banana family and is widely available in South India. Hailing from Kerala, I have a special place for plantain as I grew up having this cooked in different forms, plantain chips being the most popular. Luckily, this is available at Canadian grocery stores too and I often buy it and make something different each time.
The other day, I'd made plantain muffins and it turned out great. However, I didn't click good pictures so I didn't post the recipe here. This morning, I thought I'll make that again for brunch and click some good pictures. I was almost ready to make it and then I figured out that my refrigerator was out of  milk. I felt too lazy to be out of my pyjamas and go for a milk shopping.
I didn't give up, took a slightly different route and made this healthy and yummy plantain bread cake. The best part was this was cooked in a saucepan over stovetop.
This is quite similar to Kaipola– a popular Malabar snack made with plantain. However, in this one I've also added bread.
Give it a try, it's easy to make and healthy. Makes an awesome evening snack or for brunch.
Here are some of the plantain recipes I've tried in my kitchen over the years: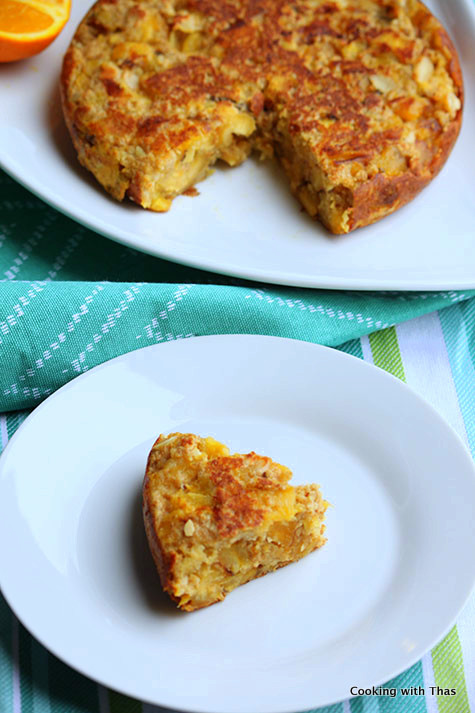 Preparation Pictures
Sautéing the plantains
Plantains mixed with egg, bread and almonds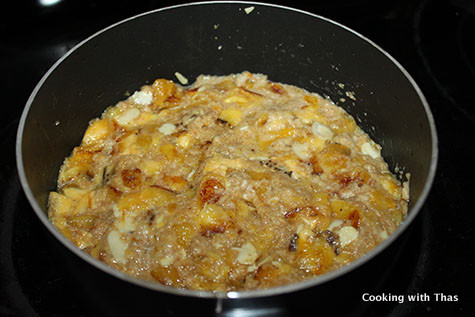 After 5 minutes of cooking, flip it over onto a plate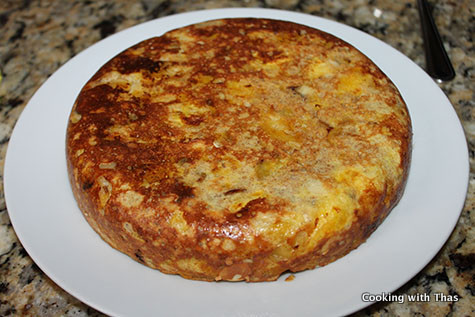 After sliding into the sauce pan to cook the other side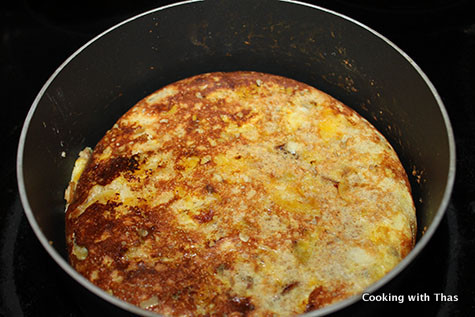 Easy Plantain Cake- Plantain Bread Pola
Ingredients
Plantains, ripe- 2, diced small
Oil or Ghee- 2 tbsp
Eggs, beaten- 2
Sugar- 3 tbsp
Whole wheat Bread- 3 slices, grated in a food processor
Almonds or Cashew nuts, coarsely crushed- ¼ cup
Ghee- 1 tbsp, to grease the saucepan
Instructions
Use ripe plantains to make this. Dice the plantains into small pieces.
Heat a frying pan over medium heat, add 2 tbsp oil or ghee.
Saute the diced plantains till light brown. Remove the pan from the heat.
Grate or chop the bread in a food processor till it resembles to crumbs.
In a large bowl, beat the eggs along with sugar.
To the eggs, add grated bread, roasted plantains and almonds or cashew nuts. Combine well.
Place a medium sized non-stick saucepan over low heat.
Add 1 tbsp ghee, let it melt and swirl the pan to grease the inside of the pan.
Pour the prepared egg/bread/plantain mixture into the pan.
Cover the saucepan and cook over low heat for 5 minutes till it's set well.
Cover the saucepan with a plate and flip the cake over onto the plate.
The top of the cake will have a golden brown color.
Gently, slide the cake into the saucepan so that the top part is at the bottom of the pan. This is to cook the other side as well.
Cook covered for another 5 minutes.
Cover the pan with the plate and flip the cake over onto the plate.
Now, both the sides of the cake have cooked well and turned golden brown in color.
Let cool down and cut into wedges.
Enjoy with a cup of coffee or tea.