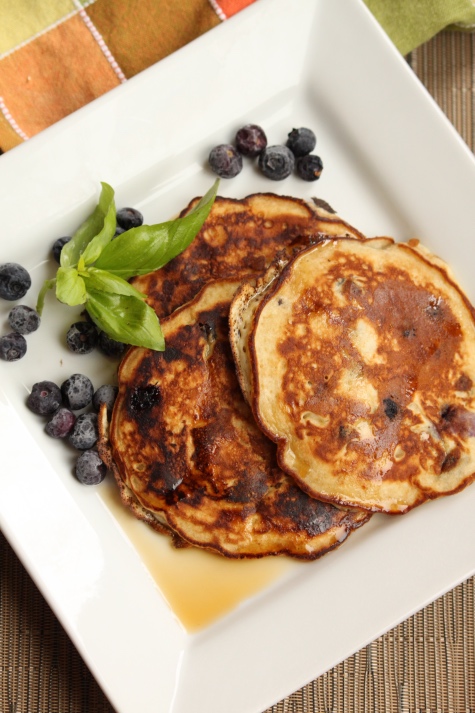 Any morning pancakes make a great breakfast…
On week days, I don't get to sit down and enjoy a good breakfast. I just scarf down cereal or oatmeal before I go to work, many times I take my breakfast with me and eat at the desk while working. So, on weekends I try to make something good for breakfast, though I'm a bit lazy to cook in the morning. My man loves pancakes and waffles so I make with different ingredients each time I make pancakes or waffles.
Today, I made this oats and blueberry pancakes and was gobbled up by my Man and I with so much enthusiasm. It's easy to make and tastes delish when drizzled with maple syrup, YUM!
For more pancake recipes, click here
Easy Oats Blueberry Pancakes
Ingredients
All purpose flour- 1 cup
Instant Oats- ½ cup
Sugar- 3 tbsp
Baking powder- 1½ tsp
Salt- ¼ tsp
Egg- 1
Milk- 1 cup
Vanilla extract- 1 tsp
Blueberries- 1 cup
Butter- 1 tbsp/pancake
Instructions
Into a bowl, add flour, instant oats, sugar, baking powder and salt. Combine well.
Add egg, combine well using a fork.
Add vanilla extract and milk slowly and combine well without any lumps.
Add blueberries, give everything a mix.
Place a pan over medium heat, let turn hot.
Add 1 tbsp butter, let butter melt.
Pour 2 big spoonful of batter onto the pan. Let bottom side cook well.
Flip it over and let other side cook well.
Transfer to a plate.
Serve warm and drizzle maple syrup over the pancakes, top with blueberries.