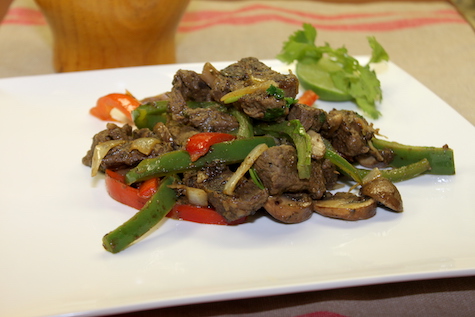 Aromatic and Flavourful Beef and veggies stir fry…
Beef coated with a flavorful homemade marinade, cooked and stir-fried; added mixed veggies and stir-fried. This can be served along with rice, noodles or pasta.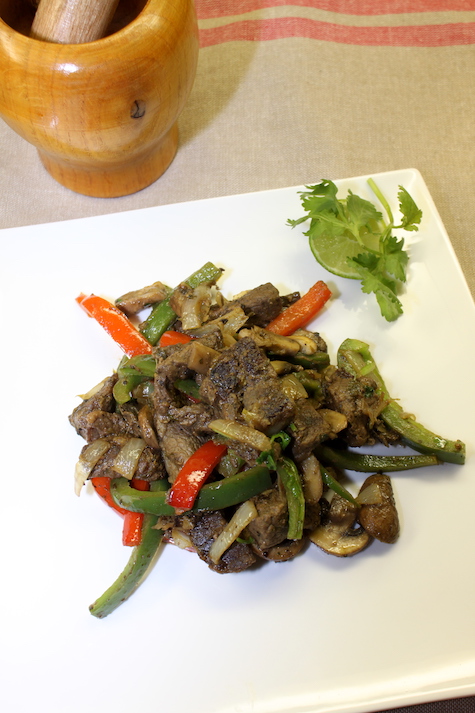 Cooking Video
Easy Beef and Veggies Stir Fry
Ingredients
To crush
Garlic- 2 cloves
Ginger- 1 inch slice
Green Onions, chopped- 1 stalk
Cilantro, chopped- 1 tbsp
Whole black peppercorns- 1 tsp
Salt- 1 tsp
For marinating beef
Beef, cubes- 1 lb or ½ kg
Lemon juice- 1 tbsp
For Stir Frying
Oil- 2 tbsp
Onion, sliced- 1
Green pepper, cut into wedges- 1
Red pepper, cut into wedges- 1
Mushroom, sliced- 1 cup
Ground pepper- ½ tsp
Lemon juice- 1 tbsp
Cilantro, chopped- ¼ cup
Instructions
Using a mortar & pestle: crush the above-mentioned ingredients into a coarse paste. Or use a food processor.
Add the crushed ingredients to the beef, combine well.
Add lemon juice, combine well.
Allow the beef to marinate for 30 minutes.
Place a wok over medium heat, add oil.
Add the marinated beef, cook covered till beef has turned tender.
Open the lid, stir fry over high heat till beef starts to brown.
Slide the beef to one side of the wok.
On the other side, add sliced onions, green & red pepper and mushrooms.
Stir fry over high heat for a few minutes till veggies turn light golden brown.
Add ground pepper, lemon juice and cilantro. Stir fry for 3 minutes.
Transfer to a plate and enjoy.