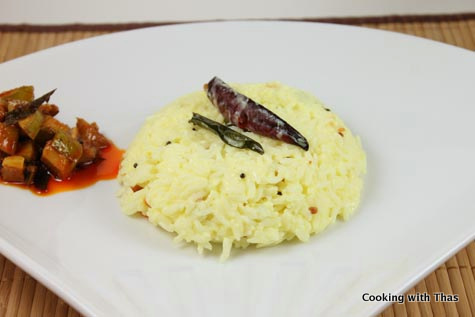 South Indian comfort food…
Curd or yogurt rice is one of the comfort foods in South India and is enjoyed by both vegetarians and non-vegetarians alike. This is a humble and simple food when eaten with pickle tastes absolutely delicious.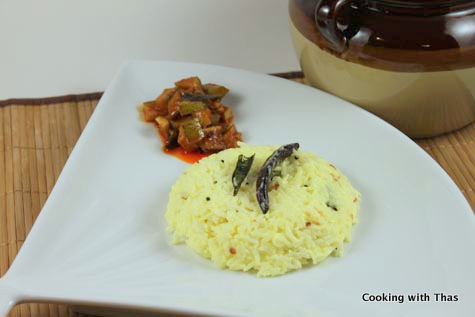 Yogurt or Curd Rice
Ingredients
Oil- 2 tbsp
Mustard seeds- 1 tsp
Chana Dal- 1 tbsp
Urad Dal- ½ tbsp
Dried red chilies, whole- 3
Curry leaves- 1 sprig
Turmeric powder- ¼ tsp
Asafoetida- ⅛ tsp
Cooked rice- 3 cups
Yogurt or curd- 1½ cups
Salt- 1 tsp
Instructions
Use sona massori or ponni rice for making this.
Place a large wok over medium heat, add oil.
Add mustard seeds, let splutter.
Add chana dal & urad dal; saute till they turn golden brown in color.
Roughly half the dried red chilies, add that and curry leaves, saute for a few seconds.
Add turmeric powder & asafoetida, saute in the oil for a couple of seconds.
Add the cooked rice & salt, stir fry for 2 minutes.
Take curd in a bowl, whish well using a spoon.
Add the curd to the rice, combine well.
Lower the heat, cook for 2 minutes.
Remove the wok from the heat.
Serve yogurt or curd rice along with pickle.
Notes
You can also add 2 chopped green chilies & 1 tsp minced ginger if you prefer.
Step by Step Pictures: