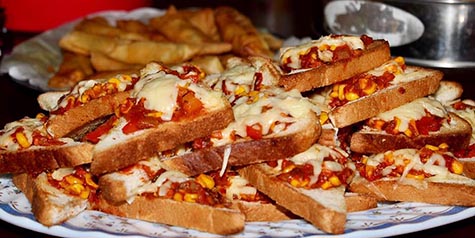 Turn your bread into pizza, makes a delicious finger food for any parties…
I made this for my niece's birthday party, all the kids loved it and was a huge hit.

Easy Bread Pizza
Ingredients
Bread slices, halved diagonally- 10 to 12 slices
Blend of Cheddar and Mozzarella cheese
Butter, unsalted
For making the sauce
Olive oil- 1 tbsp
Onions, chopped- 2
Garlic, chopped- 2 cloves
Dried Oregano- 2 tsp
Corn kernels- 1 cup
Green pepper, chopped- 1
Red pepper, chopped- 1
Ragu Pizza sauce (store bought)- 1 bottle (14 oz) or 2 cups (or use tomato sauce)
Ground pepper- ¾ tsp
Salt- to taste, if needed
Instructions
Half the bread slices diagonally.
On a pan, melt some butter and place the halved bread slices and toast till golden in color. Remove from the pan and keep aside.
Place a non-stick pan over medium heat, add olive oil.
Add onions, garlic, season with salt and saute till light golden in color.
Add dried oregano, combine well.
Add corn kernels, green pepper and red pepper, combine well and cook till veggies turn slightly soft.
Add pizza sauce or tomato sauce, combine well.
Season with ground pepper and salt if needed.
Cook for a few minutes till the sauce has thickened.
Remove the pan from the heat and keep aside.
Preheat oven to 400 F or 200 C.
Place the toasted halved bread slices on a baking pan.
Spread the prepared veggie pizza sauce over each slice.
Top with cheese.
Place in the oven and bake for 12 to 15 minutes till the cheese has melted.
Remove the baking pan from the oven and serve the bread pizza.