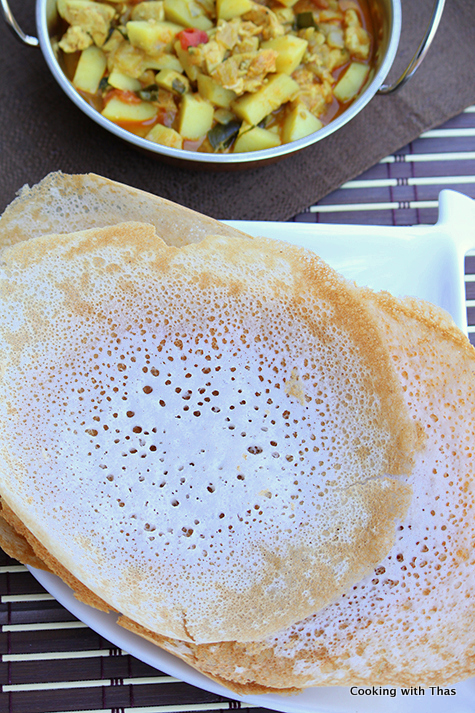 Crispy and soft melt into your mouth Appams…
Appam or Laced Rice crepe is a popular breakfast dish in Kerala. Soaked rice and coconut are ground into a smooth batter, allowed to ferment overnight and baking soda is added before making appams. You can also make appam by adding yeast. For making appams, you have to use the non-stick pan used for making appam, available at most Indian stores.
I make my appam batter thin as I love thin appams. If you want puffy center, you could make the batter a bit thicker and make appams. These are all personal choices, so make your appams according to your likes.
How to make Easy Appam  Cooking Video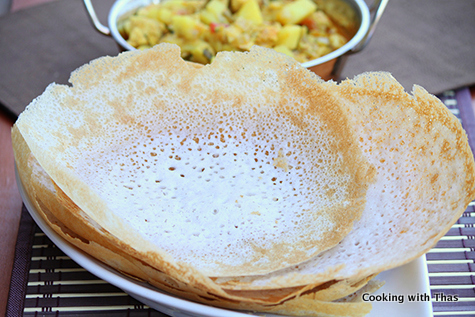 Easy Appam Recipe- without adding yeast
Ingredients
For making batter
White Raw Rice- 1 cup ( Sona Masoori or Ponni rice)
Grated coconut- ½ cup
Cooked white, brown or rosematta rice- ¼ cup
Coconut milk- 1 cup
Water- 1½ cups
Other Ingredients
Baking soda- ½ tsp
Salt- ¼ tsp
Instructions
Firstly, soak the rice in water for 4 to 5 hours.
Sona Masoori or Ponni rice (available at Indian stores) or any kind of less starchy white raw rice can be used.
To a blender jar or grinder: add soaked rice, grated coconut, cooked rice, coconut milk and water, grind to a smooth fine batter.
The batter has to be fermented. I use my Instant Pot for fermentation.
Pour the batter into the stainless steel pot. Close with the lid.
Select Yogurt setting, time 8 hours at medium temperature.
If you don't have an Instant Pot & living in a warm place: Pour the batter into a large bowl and keep covered on the countertop overnight to ferment.
If you don't have an Instant Pot & living in a cold place, warm up the oven at the lowest temperature- 150 F or 65 C for 3 minutes, turn off the oven, place the batter covered inside the oven and keep it overnight.
After 8 hours, the batter will be well fermented.
Fermented batter will be thick, add ¼ cup water to thin down the batter. Don't make into a watery batter, has to be slightly thick.
Add baking soda and salt to the batter, combine well.
Keep the batter aside for 10 minutes.
Place the appam pan over medium heat, let turn hot.
Grease the pan with non-stick cooking spray.
Remove the pan from the heat, pour 1 large spoonful of batter onto the pan and swirl the pan, let the batter spread on the sides of the pan.
Close the pan with its lid and cook for 4 minutes.
Open the lid, using a flat spatula remove the appam from the pan, transfer to a plate.
Appam can be served with chutney or any kind of curries- chicken, mutton, beef, fish, egg, or veg curries.
Enjoy.
Notes
If you want appams with puffy center, make the batter thicker or add 2 to 3 tbsp of rice flour to the thin batter to make it thick.