Easiest peanut butter cookies you can ever make…
My husband and I are hooked on these cookies. This recipe fits all my criteria: easy to make, not many ingredients are needed, in just a matter of minutes I can indulge in these cookies, it's crunchy and melts in my mouth. This recipe also fits my man's criteria: it's gluten free and dairy free, it has peanuts, it's creamy and it's delicious.
A few weeks ago, my husband had these cookies at work made by one of his co-workers. The lady decided to make these cookies since it's gluten free so that my man can enjoy it too, so sweet and kind of her. After having a few of these cookies (he did resist his temptation to finish all the cookies), my man requested the recipe (this is quite an unusual behavior). The recipe really surprised my man, he expected a long one page recipe. Instead, he got the smallest recipe he has ever seen which called only for 3 ingredients. Immediately, he forwarded the recipe to me with a note which said: "I can't wait to be home to make these cookies all by myself".
Yes, these cookies can be made even by a kid let alone my man. You just have to combine peanut butter, sugar and egg, vanilla extract can also be added. Roll the dough into small balls, place it on a baking sheet and pop it in the oven. After 20 minutes of baking, perfect peanut butter cookies will be out of the oven, allow them to set for a few minutes, after that you can indulge in it.
I'd already shared a similar recipe for making peanut butter cookies in which chocolate chips and flax seeds were added. This is just plain peanut butter cookies without the addition of any other ingredients.
This recipe can also be seen on the Kraft peanut butter jars, so I guess the credit goes to the Kraft team.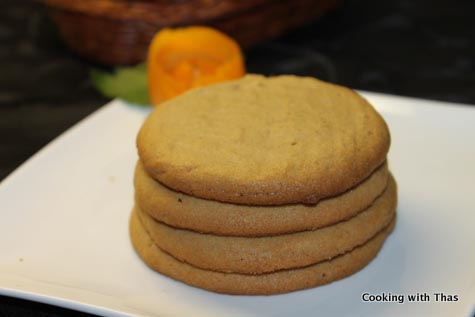 Step By Step Pictures
Easiest Peanut Butter Cookies - Flourless and Dairy Free
Ingredients
Peanut butter, smooth- 1 cup
Sugar- ¾ cup (Brown sugar or white sugar)
Egg- 1
Vanilla extract- 1 tsp (optional)
Chocolate Chips- 2 tbsp (semi-sweet)(optional)
Instructions
Preheat oven to 350 F or 175 C.
Combine all the above mentioned ingredients using an electric hand mixer till well incorporated, about 2 to 3 minutes.
If you are adding chocolate chips, add that and combine using a spatula. Adding choclate chips is optional. If added cookies taste much delicious.
Scoop 1 tbsp of the cookie dough, roll it between the palm of your hands and slightly flatten it.
Place on a baking sheet lined with parchment paper.
Place the flattened dough 2 inches apart from each other, as the dough will expand while baking.
Bake for 20 minutes or till the edges of the cookies turn light brown. Don't over bake them.
Remove from the oven, allow it to cool down on the baking sheet for 10 minutes.
After the cookies cool down, it will set and will turn crunchy.
Indulge in these homemade super easy peanut butter cookies.
Notes
You can add either Brown sugar or white sugar, brown sugar will make these cookies delicious.