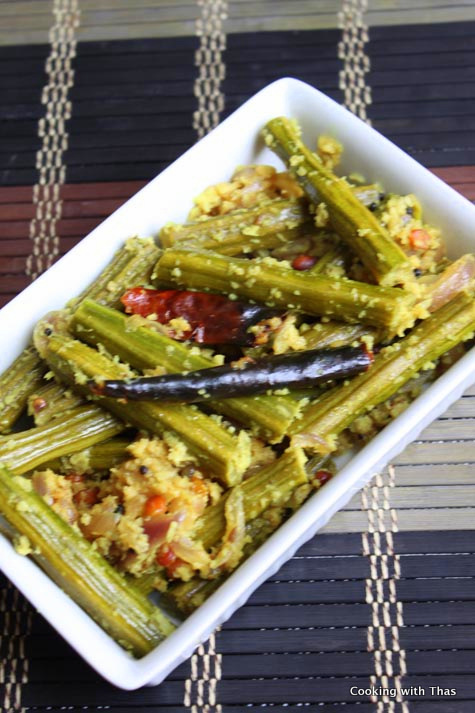 Drumstick along with coconut when stir fried tastes delicious and makes a healthy side dish…
When we hear drumstick , the first thing that comes to our mind is Chicken drumstick or legs. Well, this is not that, this drumstick is vegetarian and is a long rod shaped veggie that is found hanging on drumstick trees.
India being the largest producers of drumstick, it's used widely in cooking. Drumstick trees are seen at the backyard of most houses in South India. The leaves, the drumstick, even the flowers can be used for cooked. It's like a medicinal plant, the leaves and drumstick are rich in Iron and has remarkable health benefits. Drumsticks can be added to curries or can be stir fried with coconut. This is my most favorite way of cooking drumstick.
In North America, drumsticks are available at Indian stores and some Asian stores. If lucky, you will find the fresh drumsticks, otherwise look into the frozen veggie aisle. Last weekend, I got frozen drumstick from the Indian store and had been thinking of making this dish. I love this dish, the stir fried coconut tastes great too.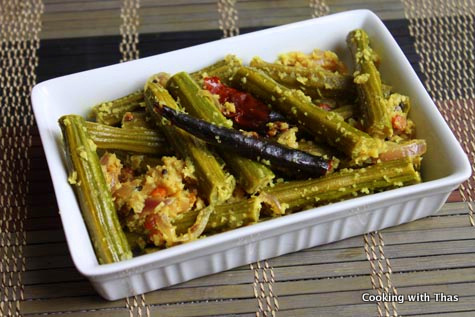 Preparation Pictures
Cooking drumstick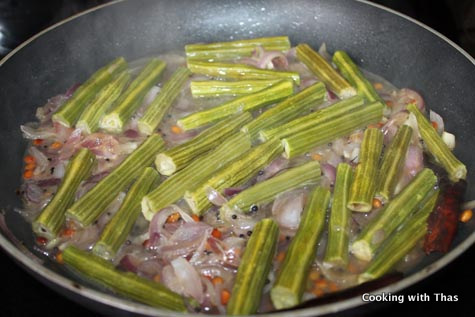 After adding coconut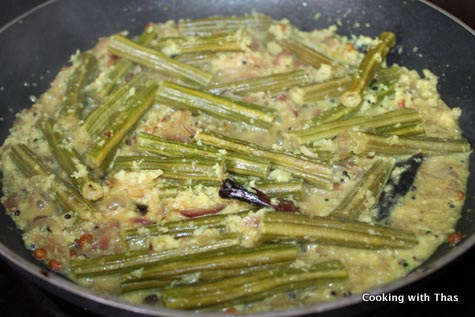 Drumstick Thoran - Moringa and Coconut Stir fry
Ingredients
To grind
Coconut grated- ¾ cup
Cumin seeds- 1 tsp
Turmeric powder- ¼ tsp
For cooking
Oil- 1½ tbsp
Mustard seeds- 1 tsp
Dry red chili, whole- 2
Curry leaves- 1 sprig
Chana dal- 1 tbsp
Small onions or shallots, chopped- 6
Drumstick, 3 inch slices- 20 to 25
Chili powder- ½ tsp
Salt- to taste
Instructions
In a blender, coarsely grind coconut, cumin seeds and turmeric powder along with very little water, keep aside.
If using fresh drumstick, cut it into 3 inch size.
Place a wok or non-stick pan over medium heat, add oil.
Add mustard seed, let it splutter.
Add dry red chili, curry leaves, saute for a second.
Add chana dal, saute till it turns golden in color.
Add chopped small onions or shallots, sprinkle a few pinches of salt and saute till onions turn light golden.
Add drumstick and add ¼ cup of water to it.
Cook covered till drumsticks turn tender.
Add the coarsely ground coconut to the drumstick, combine well.
Add chili powder for spice. You can ignore this if you don't need the spice.
Stir fry for a few minutes till coconut has cooked well and the water dries off.
This is a dry dish.
Taste and add more salt for taste.
Transfer to a bowl and serve as a side dish along with rice.