Moist, buttery & delicious pound cake with candied fruits…
If you're looking to bake an easy cake that calls for simple ingredients & tastes delish, this is the one. Candied fruits will impart a nice sweetness to this cake.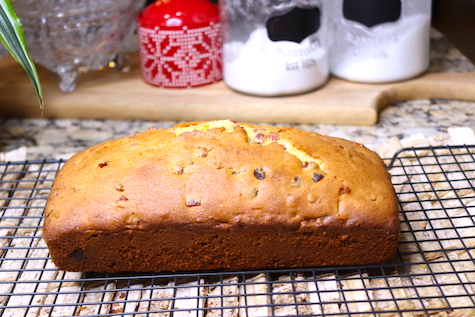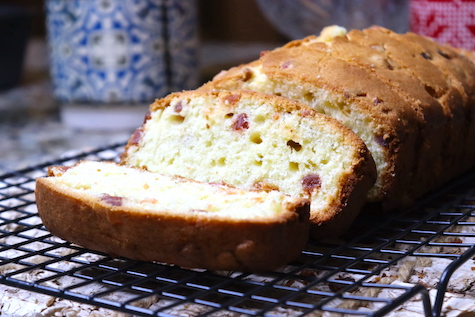 Recipe Courtesy: Joy Of Baking

Dried Fruits Pound Cake- With Candied Fruits
Ingredients
All-purpose flour- 1⅓ cups
Baking powder- 1 tsp
White granulated sugar- ¾ cup
Salt- ¼ tsp
Butter, cut into chunks & slightly softened- ¾ cup
Eggs, large- 3, at room temperature
Milk- 3 tbsp, at room temperature
Vanilla extract- 1 tsp
Candied fruits- 1 cup (mixed with 1 tbsp all-purpose flour)
Instructions
Preheat the oven to 350 F or 180 C.
Grease a loaf pan (8-1/2 x 4-1/2 x 2-1/2 inches) with butter, line the bottom of the pan with parchment paper & butter the paper.
The candied fruits I bought were called the glace fruit mix, it didn't have much sugar syrup in it so I didn't pat dry the fruits. If there is a lot of syrup, drain the syrup & pat dry the fruits.
Add the candied fruits to a bowl & add 1 tbsp all-purpose flour & combine well.
To a large bowl, add the flour, baking powder, salt & sugar; combine well.
Use slightly softened butter or keep the butter at room temperature for an hour & cut into chunks.
I've used an electric hand mixer to make the cake batter.
You can also use a stand mixer with paddle attachment.
Add the butter & beat at low speed for a few minutes. The batter will have a crumbled texture.
Eggs should be at room temperature.
Add eggs one at a time & beat well after each addition.
After adding the third egg, beat at medium speed for 2 minutes.
Add the vanilla extract & milk, beat for 2 minutes.
Using a silicone spatula, scrape the sides of the bowl & beat again for a few seconds.
Finally, add the candied fruits mixed with flour & using a spatula, combine well till well incorporated.
Pour the batter into the greased loaf pan.
Smoothen the top with the spatula.
Keep the pan in the preheated oven at the center rack.
Bake for 60 minutes.
After 60 minutes, insert a fork or toothpick into the center of the cake, if it comes out clean take the cake out of the oven.
If the center hasn't cooked well, bake for another 5 minutes.
This pound cake will have cracks on the top.
Run a knife through the sides of the cake, to detach the cake from the pan.
Transfer the cake to a wire rack & let cool down completely.
Using a serrated knife, slice the cake & enjoy it with a cup of coffee or tea.
This cake can be enjoyed while it's warm or chilled.
Leftover cake can be refrigerated for a week or can be kept in the freezer for 2 months.
Refrigerated cake- warm up the cake in the microwave for 20 seconds & enjoy.