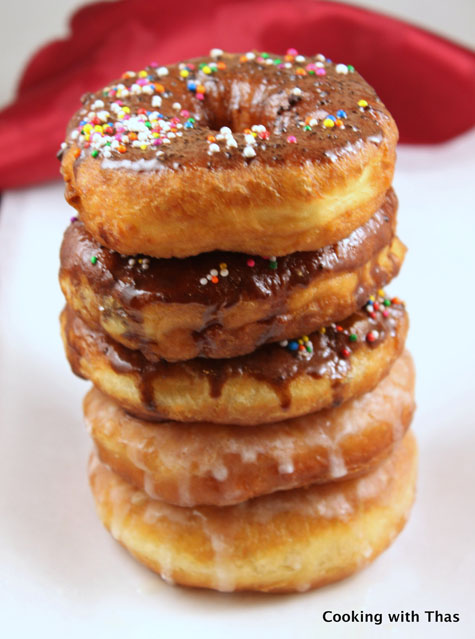 Will there be anyone who hates Donuts??? Just wondering…
If the answer is yes, I would like to meet that person. Why am I talking about hatred? Let's talk about the everlasting love for donuts, the word donuts itself drives me crazy. Donuts are my most favorite among the pastry family, being a die hard fan of it I can devour it everyday and my love for it will never cease. Is there anyone in the same boat as me??? If so let's talk donuts…
While growing up in Kerala I haven't seen donuts in any of the pastry shops as it was not available there. If it was available I wouldn't have missed out at any cost. I first tasted donuts in Michigan from Krispy Kreme. That shop was so much fun as they make donuts right infront of us and we can taste it as soon as it comes out fried and still hot. One bite of that warm glazed donuts for the first time and I was out of this world. I instantly, immediately, suddenly and without any second thought fell in love and became a slave of it forever. I've tried donuts from several shops, for me Krispy Kreme makes the most delicious donuts. I felt so sad to hear that they have closed down most of the shops in the US and pretty soon they would shut down their business.
I prefer glazed to chocolate covered donuts, sometimes just to avoid extra sugar glaze I go with the sour cream plain. I have thought of making donuts in my kitchen a million times, each time I am hit by this thought my evil mind would pop up and brain wash me to just get it from the store and to enjoy it with a cup of cappuccino.
Last weekend, I had to attend a potluck party. While planning what to whip up, the thought of making homemade donuts excited me. Well, this time I tricked my evil mind and entered the kitchen in all spirit and started making donuts. I had to do some intense research for a good recipe to make donuts. I surfed through the internet and finally saw the recipe for making Glazed doughnuts posted by Lara Ferroni and I literally stopped my search as I felt that recipe is going to help me in making some terrific donuts. The picture of the donut captured my heart right away. Not to mention the donuts turned out to be perfect, it was fluffy, soft and delish. I knew little about Lara Ferroni when I made these donuts. After indulging in the homemade donuts and after getting some rave comments from my friends at the potluck party, I was full of gratitude for Lara for sharing such a wonderful recipe. I then googled her name and guess what? She's in deed a donut queen. She has written a book just for doughnuts which can be found at Amazon and she had shared several dounut recipes on her website.
Recipe Courtesy: Donuts or Doughnuts Recipe
I followed the recipe as it is, however I had to add extra flour to get the right texture.
So follow the recipe and add flour accordingly till the dough is smooth and not too sticky.
Use a donut or cookie cutter to make the shapes.
If you don't have donut cutter, follow what I did.
After you roll out the dough into 1/2 inch thick, place a round lid with slightly sharp edges (I used the lid for Nestle coffee jar) over the dough and press tightly down, the lid will make a round shape and you can easily get a round shaped dough.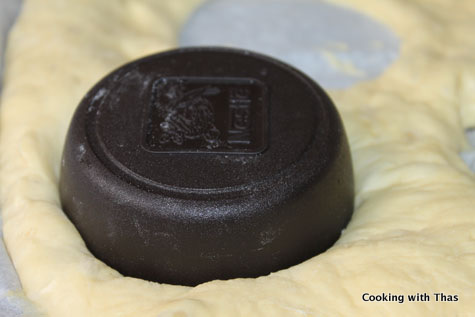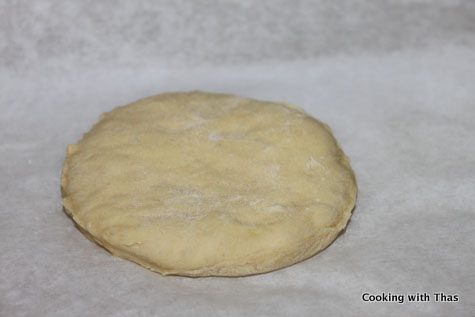 After that place a small lid (I used the lid for olive oil bottle) on the middle of the round dough and press down, it will make a small round on the center. You could save those middle holes and fry them to make donut holes.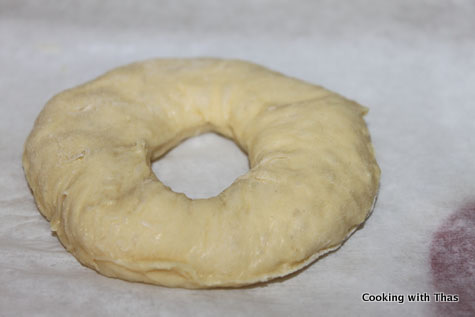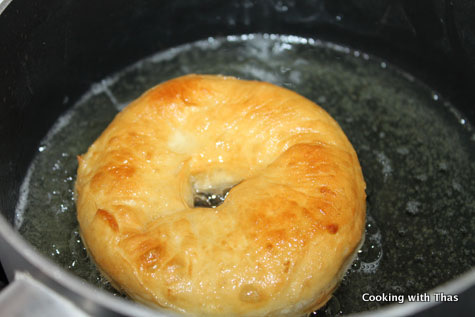 Before glazing the donuts: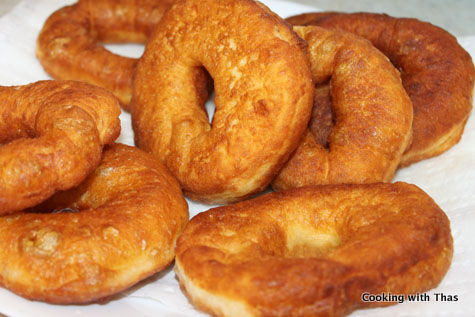 To glaze the donuts, dip them into the sugar glaze or chocolate glaze. You can even sprinkle some sugar glitters over it for some color.
Donuts or Doughnuts, Glazed and Chocolate Covered
Ingredients
Active dry yeast- 3 tbsp or 2¼ tsp instant yeast
Milk- 1 cup, heated to 110˚F (43°C)
Bread flour- 2 to 2½ cups (plus more for the work surface)
Superfine Sugar- 2 tbsp (or just grind granulated sugar in a blender until finely ground)
Salt- ½ tsp
Vanilla extract- 1 tsp
Egg yolks- from 3 large eggs
Unsalted butter- 4 tbsp, at room temperature
Vegetable oil- enough for frying
For the basic glaze
Confectioners' sugar, sifted to remove any lumps- 1½ cups
Milk or water- 3 to 4 tbsp
Vanilla extract (optional)- 2 tsp
For the chocolate glaze
Confectioners' sugar- 1½ cups
Cocoa powder- 4 tbsp
Milk or water- 2 tbsp
Vanilla extract (optional)- 2 tsp
Instructions
In a medium bowl, dissolve 2 tbsp active dry yeast in ¾ cup warm milk.
Add ¾ cup of the flour to create a smooth paste. Cover and let it rest in a warm place for 30 minutes.
Combine the remaining ¼ cup warm milk and 1 tbsp yeast in the bowl of a stand mixer fitted with the paddle attachment.
Add the flour/yeast mixture along with the sugar, salt, vanilla, and egg yolks. Mix until smooth.
Turn off the mixer and add ½ cup more flour.
Mix on low for about 30 seconds.
Add the butter and mix until it becomes well incorporated, about 30 seconds.
Switch to a dough hook and, with the mixer turned off, add more flour, about ¼ cup at a time. Knead the dough on medium speed between additions until the dough pulls completely away from the sides of the bowl and is smooth and not too sticky. It will be very soft and moist, but not so sticky that you can't roll it out.
I've added total 2½ cups flour.
Cover the bowl with plastic wrap and refrigerate for at least 1 hour and up to 12 hours.
Line a baking sheet with a lightly floured dish towel. Roll out the dough on a lightly floured surface to ½ inch thick.
With a doughnut or cookie cutter, cut out 3-inch-diameter rounds with 1-inch-diameter holes.
Place the doughnuts at least 1 inch apart on the baking sheet and cover loosely with plastic wrap. Let rest in a warm spot to proof until they almost double in size, 5 to 20 minutes.
To test whether the dough is ready, touch it lightly with a fingertip. If it springs back immediately, it needs more time. If it springs back slowly, it is ready. If it doesn't spring back at all, it has over-proofed, in which case you can punch it down and re-roll it once.
While the doughnuts are proofing, heat a heavy-bottomed pot with at least 2 inches of oil until a deep-fat thermometer registers 360˚F (182°C).
With a metal spatula, carefully place a couple of doughnut holes or doughnuts in the oil, do not crowd the pot.
Fry for 1 to 2 minutes per side, until light golden brown.
Remove with a slotted spoon, transfer to a paper towel, and let cool slightly before glazing.
Repeat with the remaining doughnuts and holes, keeping the temperature consistent.
Make the glaze
Whichever glaze you're making, place the sugar (and cocoa powder for chocolate glaze) in a bowl and slowly stir in the milk and vanilla, if using, a little at a time, to make a smooth, pourable glaze.
Pour the glaze into a bowl. Dunk the doughnuts, let any excess glaze drip off, and then transfer them to a wire rack placed on a baking sheet or over a sheet of parchment paper to rest until glaze sets.
Notes
Notes: These donuts did absorb some oil. According to Lara, the reason why Krispy Kreme or store bought ones are not oily is that they add soy flour while making the dough which reduces the oil absorption and increases the shelf life as well.