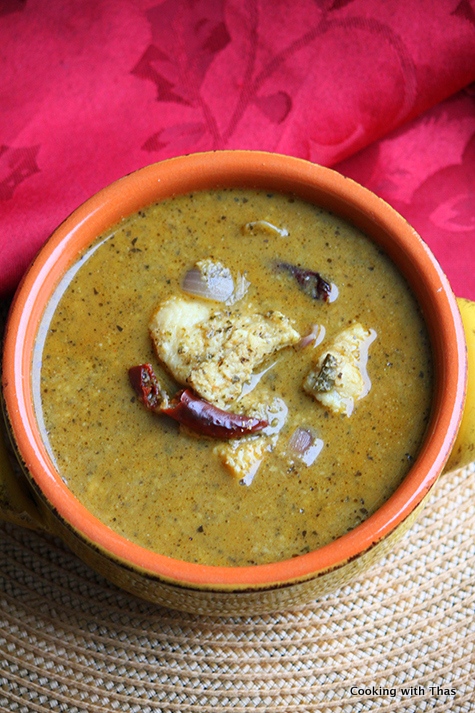 Fish cooked in curry leaves gravy, aromatic and green fish curry…
Curry leaves are unavoidable in South Indian cooking, they impart an incredible aroma and taste to any dish. A sprig of curry leaves are added while cooking almost all veggie and fish dishes. It's also added into the oil for tempering along with mustard seeds and dry red chilies, as it gets fried in the oil the flavor and aroma that comes out of it is just amazing.
Curry leaves are abundantly grown in South India, due to the tropical weather and are found in the backyard of most houses. Fresh curry leaves are plucked from the plant and used right away for cooking. Not to forget, curry leaves have amazing health benefits.
The other day, while making fish curry I made a paste of curry leaves along with coconut and other ingredients and cooked the fish in curry leaves gravy. It was quite different from the usual fish curries and tasted good. I enjoyed with rice, fish fry and jackfruit seeds thoran.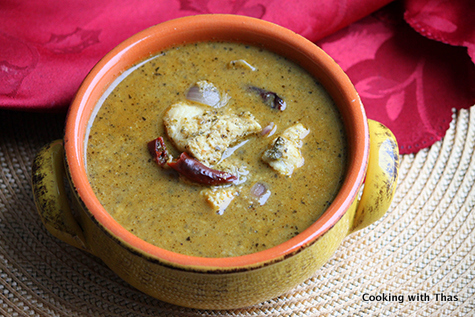 Preparation pictures
Cooking small onions
After adding the pureed curry leaves and coconut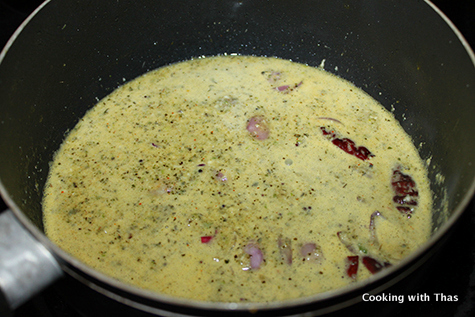 Cooking fish in the curry leaves-coconut gravy
Curry Leaf Fish Curry
Ingredients
To make curry leaves paste
Oil- ½ tbsp
Green chilies- 2, chopped
Curry leaves- 1 cup
Grated Coconut - 1 cup
Chili powder- ½ to 1 tsp
Water- ½ cup
Salt- to taste
For making fish curry
Oil-1 tbsp
Mustard seeds- 1 tsp
Red dry whole chilies- 2
Small onions, halved- 8
Fresh Tamarind- 2 inch slice soaked in ¼ cup warm water
Fish slices- 8 medium slices, any kind (tilapia, king fish, pomfret)
Ground black pepper- ½ to 1 tsp
Salt- to taste
Instructions
Making curry leaves paste: Place a pan over medium heat, add oil, let it turn hot.
Add green chilies, curry leaves and grated coconut. Roast for a few minutes.
Just before coconut turns golden in color, add chili powder and salt, saute for a minute and remove the pan from the heat. Let cool down.
In a blender, add the roasted curry leaves and coconut mix, puree till smooth along with ½ cup water. Keep aside.
In a small bowl, soak fresh tamarind in ¼ cup warm water for 5 minutes. Squeeze the tamarind in the water to release the juice. Strain the juice and discard the skin. Keep aside.
Place a saucepan or clay pan over medium heat, add oil and let it turn hot.
Add mustard seeds, let it splutter.
Add dry red chilies, saute for a few seconds.
Add halved small onions, season with salt and saute till onions turn translucent.
Add the pureed curry leaves and coconut. Combine well and cook for a few minutes till the raw smell goes away.
Add the tamarind juice, combine well.
Add the fish slices into the gravy and cook covered till fish has cooked well and the gravy thickens a bit.
Season with ground pepper and more salt if needed.
Remove the pan from the heat and keep covered for sometime.
Serve this curry leaf fish curry along with rice or roti.