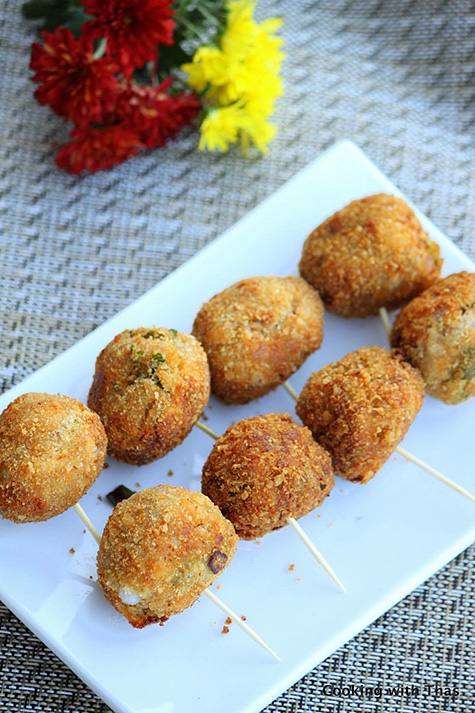 Crispy and crunchy fried tuna balls, perfect appetizer…
This is an easy to make appetizer with tuna. Canned tuna is combined with onion, potatoes and seasonings, made into balls and first dipped in corn starch mix and then coated with bread crumbs and fried till golden and crispy. Absolutely delicious.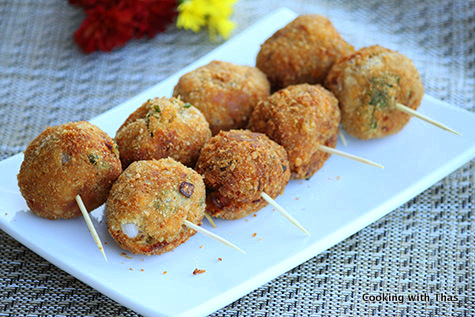 Cooking Video
Crispy Fried Tuna Balls
Ingredients
For mixing with Tuna
Canned Tuna- 1 Can (or use any kind of fish)
Chopped Onion- 1
Chopped Green onion- 1 stalk
Ginger grated- 1 inch slice
Garlic grated- 1 clove
Chili powder- ¾ tsp
Garam masala- ½ tsp
Coriander powder- 1½ tsp
Salt- ¼ tsp
Cilantro, chopped- 2 handfuls
Potatoes, cooked- 2
Other Ingredients
Corn starch- 2 tbsp combine with ¼ cup water
Breadcrumbs
Oil- enough for deep frying
Instructions
In a bowl, combine well all the above mentioned ingredients 'for mixing with tuna'.
Make small balls out of the mixture.
In a small bowl, combine corn starch and water well.
Have breadcrumbs ready on a plate.
First dip the tuna balls in corn starch mix and then coat with bread crumbs.
Repeat with all tuna balls. Let rest for 2 minutes.
Place a frying pan over medium heat, let turn hot.
Add enough oil for frying, let oil turn hot.
Add the balls without crowding.
Fry till balls turn golden and crispy.
Transfer to a plate lined with paper towel.
If you prefer you could insert tooth pick or small skewer into each fried ball.
Serve while the tuna balls are hot along with your favorite dipping sauce.
Notes
You could replace tuna with ground chicken or beef as well.