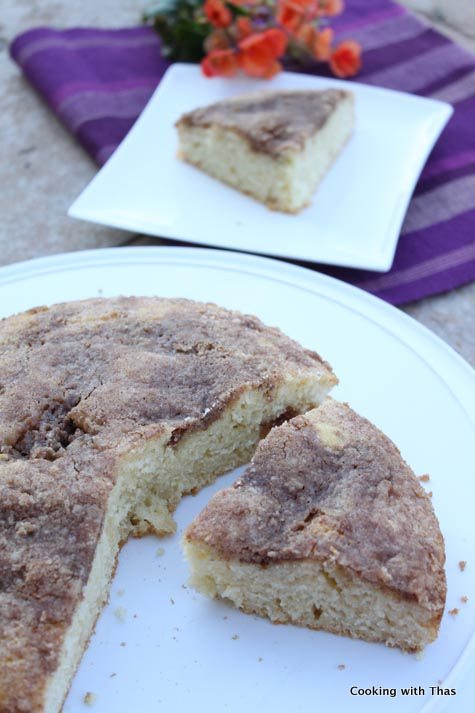 So light, so fluffy, so soft and so delicious…
I love hosting contests and giveaways, so that I can send some cool gifts to my readers and make them happy. The Valentine's contest that I had hosted was a big hit, surprisingly so many of my readers participated and I was overwhelmed to know that many actually try my recipes. I felt extremely happy to see all the pictures clicked by my readers. I had been thinking of hosting the next one and somehow it got postponed. Today, I thought less and acted more and so started making the banner. Yes, it's going to be Eid contest and giveaway. All you have to do is to share your favorite family recipes along with a picture on my website, you could submit the recipe here. I' ll be trying some of the recipes that I like and will pick one recipe which will be the winner. The contest is open to all the people worldwide as I will be shipping the prize anywhere in the world.
It had been a while since I had baked a cake, the reason for not baking is due to sheer laziness. Today, I told my man that I wanted to make Boston cream pie topped with ice cream and whipped cream, drizzled with chocolate syrup. My man without a second thought replied " a moment on the lips, a lifetime on the hips". I was surprised to hear this and this made me pause for a while. Then he added: "You better have that ready, I am waiting". Now, that's my man! Well, I wasn't that excited about making the Boston cream pie, I was more excited about making a light and fluffy cake.
Whole cinnamon has been widely used in Indian cooking for making savory dishes, in fact one of the ingredients in Garam masala is cinnamon. However, ground cinnamon wasn't used much in making desserts in India, while in India I had never had a cinnamon cake or any pastry that had cinnamon in it. After I moved to the US, I found that ground cinnamon is widely used in making desserts here: cinnamon rolls, cinnamon cake, cinnamon pastry, the list is endless. I couldn't resist the aroma and the flavor imparted by ground cinnamon to the desserts, I instantly fell in love with it. I had tried cinnamon rolls and a few other desserts that called for ground cinnamon. Today, I made this easy to make, light and yummy cinnamon cake. This is a perfect cake to serve along with coffee or tea, the cake just melts into your mouth.
Recipe for making Cinnamon rolls, click here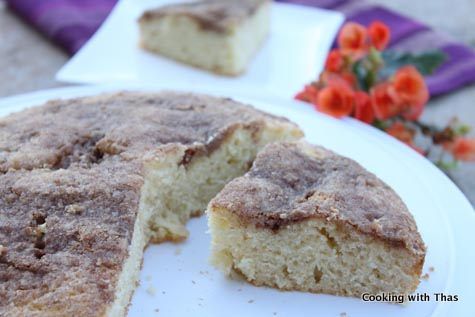 Preparation Pictures
Coarse crumb flour mix
Butter topped on the cake batter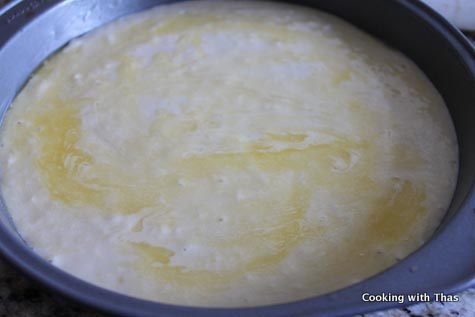 Coarse crumb topped on the cake batter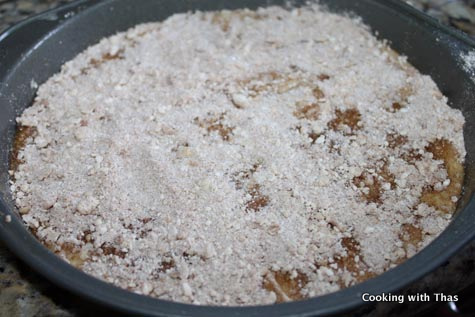 Cinnamon Cake - Light and Fluffy Cake with Cinnamon
Ingredients
All purpose flour- 2 cups
Sugar- ¾ cups + 2 tbsp
Baking powder- 1 tbsp
Salt- ½ tsp
Vegetable shortening- ½ cup ( or use chilled butter)
Ground cinnamon- 1 tsp
Egg, beaten- 1 large
Milk- ¾ cup
Butter, unsalted and melted- 2 tbsp
Instructions
Preheat the oven to 350 F.
In a bowl, combine the flour, sugar, baking powder and salt well without any lumps.
Add the vegetable shortening to the flour mix, using two forks cut the shortening till the mixture forms coarse crumbs. Do not mix the shortening thoroughly into the flour.
You could use chilled butter instead of vegetable shortening and combine with the flour to form coarse crumbs.
Making the coarse crumb mixture for topping: Remove ½ cup of the prepared flour crumbs from the bowl and save it in an another small bowl, add the remaining 2 tbsp of sugar and ground cinnamon to it, combine well, Keep aside. This is used to top the cake batter.
Add the egg to the flour mixture in the large bowl, combine well using a fork.
Add the milk and combine well using a fork or whisk till there are no lumps and the batter is smooth.
Grease an 8-inch cake spring foam pan or regular pan with melted butter.
Pour the batter into the pan, even out the top using a spatula.
Melt 2 tbsp of butter in a microwave, pour the melted butter over the top of the cake batter. Gently spread it evenly.
Sprinkle the prepared crumb mixture over the butter layer, spread it evenly.
Bake the cake in the oven for 35 to 40 minutes or until a fork inserted into the center of the cake comes out clean.
Remove from the oven, let cool down.
Cut into desired shape and serve with coffee or tea.