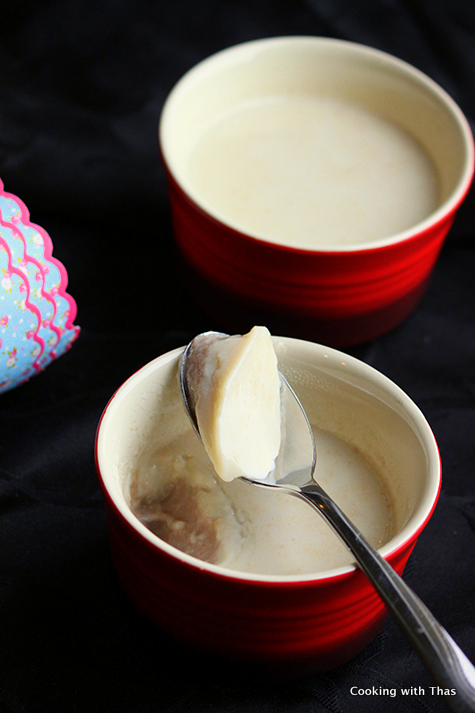 Chikoo or sapodilla pudding with caramel malty flavor, tastes divine…
Chikoo or Sapodilla is an incredibly sweet fruit when it's ripe and is commonly found in Tropical countries. There's a huge tree on the front yard of my parents house in Kerala and they have the luxury of picking the chikoo from the tree and enjoying it. Since, birds are easily attracted towards the sweet ripe chikoo and they won't spare the fruit for you, it's mostly picked when it's about to ripe and is allowed to ripen over the kitchen countertop.
Milkshake made out of chikoo is very common in most milkshake bars in kerala. As the ripe chikoo is incredibly sweet and has a caramel flavor, the fruit itself tastes delicious. In North America, I've seen frozen chikoo being sold at most Indian stores. This is one of my favorite fruits and I always have this stacked up in my freezer. I mostly make milkshakes out of it by adding milk, a tsp of vanilla extract and honey, tastes delicious.
The other day, I made pudding out of it and was so glad that I made it. It was divine, I'll be making this pudding quite often when I have guests over, they are going to love this.

Cooking Video
Chikoo or Sapodilla Pudding
Ingredients
Chikoo or Sapodilla, ripe- 10 quarter slices (if using frozen, defrost or thaw and use them)
Milk- 1¾ cups
Condensed milk, sweetened- 4 tbsp
Vanilla extract- 1 tsp
Gelatin- 1 tbsp, soaked in ¼ cup water (or use agar agar/china grass)
Instructions
If using frozen chikoo, let it thaw or defrost in microwave till soft.
In a blender, grind the chikoo slices and ¾ cup milk together till smooth.
In a bowl, add gelatin, pour ¼ cup water over it and let soak for 5 minutes.
Place a saucepan over medium heat, pour the pureed chikoo along with remaining 1 cup milk and condensed milk, combine well.
Let the mixture heat through.
Add vanilla extract.
Add the soaked gelatin, stir well and let it dissolve completely.
Remove the pan from the heat.
Strain into ramekins or dessert bowls, let cool down.
Place in the refrigerator for a few hours or overnight till pudding has set well.
Enjoy the deliciously tasting chikoo pudding.
Notes
You can also use agar-agar or china grass- ½ cup of 1 inch strands heated in ½ cup water till it has dissolved well. Strain and pour into the pudding mixture.