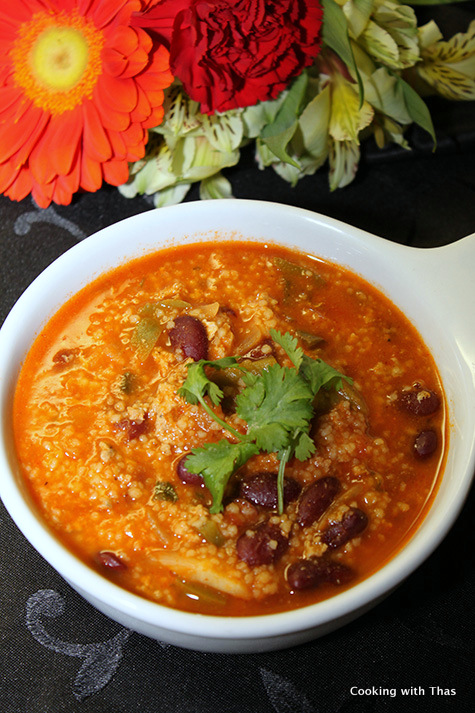 Hearty ground chicken and couscous soup, it's more like chili soup, perfect on a cold winter day…
As winter arrives, I make more soups and a bowl of any warm soup would make me feel cozy. Every time I make soup, I tend to add different ingredients, spices, veggies etc. I just can't resist that temptation.
The other day, I started making chicken chili soup, as the cooking progressed I deviated from the original chili recipe and ended up adding couscous to the soup. Now, that turned into a different kind of soup. I loved the addition of couscous to this soup, it was perfect by itself for lunch and dinner- it's filling and makes you feel comfy too.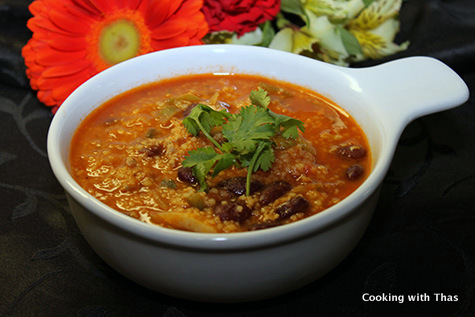 Preparation pictures
Making chicken couscous soup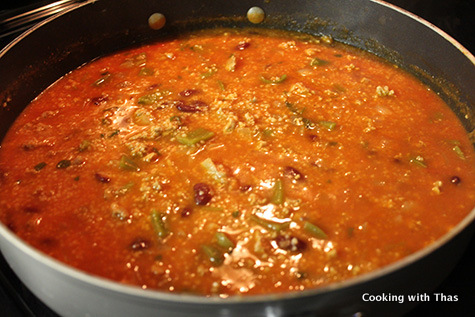 Chicken Couscous Soup- Couscous soup
Ingredients
Oil- 2 tbsp
Onion, chopped- 1
Ground pepper- ½ tsp
Ground chicken- 1 lb or ½ Kg
Green pepper, cubed small- 1
Tomatoes, chopped- 2
Red Kidney beans- 1 can
Tomato sauce, low-sodium- 400 ml or 1½ cups
Water- 2 cups
Ground Cumin- 1½ tsp
Chili powder- 1 tsp (add more if needed)
Cilantro, chopped- ¼ cup
Cooked Couscous- 1 cup
Salt- to taste
Instructions
To cook couscous: Boil 1¼ cups water in a saucepan, when the water comes to a boil, add 1 cup couscous, cover the pan and remove the pan from the heat. Let stand for 5 minutes and the couscous will get cooked. Keep aside the cooked couscous.
Place a large pan over medium heat, add oil.
Add onion, season with salt and ground pepper, saute for a few minutes.
Add ground chicken, combine well and break any lumps that's formed. Cook for a few minutes till the pink color disappears.
Add green pepper and tomatoes, cook for a couple of minutes.
Add red kidney beans, tomato sauce and water.
Season with ground cumin, chili powder and salt.
Cover the pan and cook for 10 to 15 minutes till the ground chicken has cooked well.
Add cilantro, combine well.
Finally, add 1 cup cooked couscous, combine well.
Cook for a minute and remove the pan from the heat.
if the soup is too thick, add water to thin down.
Taste and add more salt or more chili powder for spice.
Serve in soup bowls and enjoy, you could have pita bread or bread along with this.