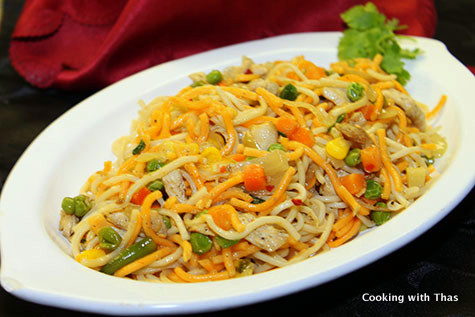 Delicious Chicken Chow Mein Noodle recipe…
Chow Mein or Fried Noodles (chow means fried and mein means noodles) is my favoirte among the noodles. Chow mein stir fried with chicken and veggies makes an excellent dish, any day any time I will be ready to enjoy a bowl of this delicacy.
For making this dish, I added dried chow mein and fried chow mein after cooking them both in boiling water till they turned soft. Added a flavorful sauce and stir fried the chow mein with chicken and veggies. You can make this without spending much time in the kitchen and effortlessly. Enjoy!
For More Chow Mein Noodles recipe, click here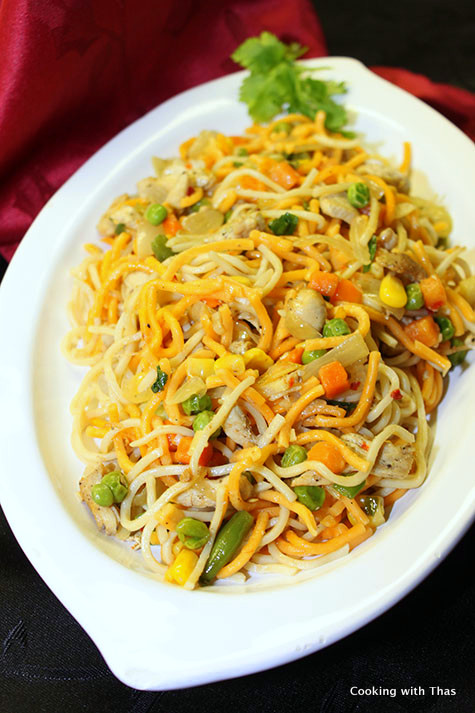 Chicken Chow Mein Recipe
Ingredients
For marinating chicken
Chicken breasts, boneless, diced- 2 breasts
Soy sauce, low-sodium- 1 tbsp
Chili paste or Sambal Oelek- ¼ tsp (or use ground pepper)
For making Sauce
Chicken stock- 1 cup
Soy sauce, low-sodium- 1 tbsp
Rice Vinegar- 1 tbsp
Chili sauce or sambal Oelek- 1 tsp
For making stir fry
Chow Mein Noodles- 250 gm
Oil- 4 tbsp to stir fry chicken
Ginger, minced- 1 tsp
Garlic, minced- 1 tsp
Onion, sliced thin- 1
Mixed veggies- Use a mix of thinly sliced red pepper/green pepper/beans/carrots/peas/corn/cabbage etc
Green onions, chopped- 2 stalks
Cilantro, chopped- ¼ cup
Sesame oil- 1 tsp
Instructions
In a bowl, combine chicken with soy sauce and ground pepper, marinate for 15 minutes.
In another bowl, combine chicken stock (or use 1 bouillon chicken cube dissolved in 1 cup water), soy sauce, rice vinegar and chili sauce or sambal oelek. Keep aside.
Boil water in a saucepan, add the chow mein noodles and cook for a few minutes till they turn soft. Do not over cook the noodles till they turn mushy. Drain the water and keep the noodles aside.
Heat a wok or wide non-stick pan over medium heat, add 4 tbsp oil.
Add marinated chicken and stir fry till chicken has cooked and turns golden in color.
Transfer the chicken to a plate lined with kitchen paper towel.
In the same wok, there will be oil left in the pan, add minced ginger and garlic, saute for a minute till they turn golden in color.
Add sliced onion, stir fry over medium high heat till tender.
Add the thinly sliced mixed veggies, stir fry for a few minutes, do not over cook the veggies let them stay crisp.
Add the cooked chicken to the wok.
Add the prepared sauce, combine well and cook for 2 minutes.
Add the cooked chow mein to the wok, combine well and stir fry over medium high heat for 3 minutes till the sauce thickens.
Add spring onions and cilantro, stir fry for a minute.
Finally, drizzle sesame oil, combine everything well and remove the wok from the heat.
Serve the chicken chow mein noodles in bowls or plates and enjoy when it's warm.