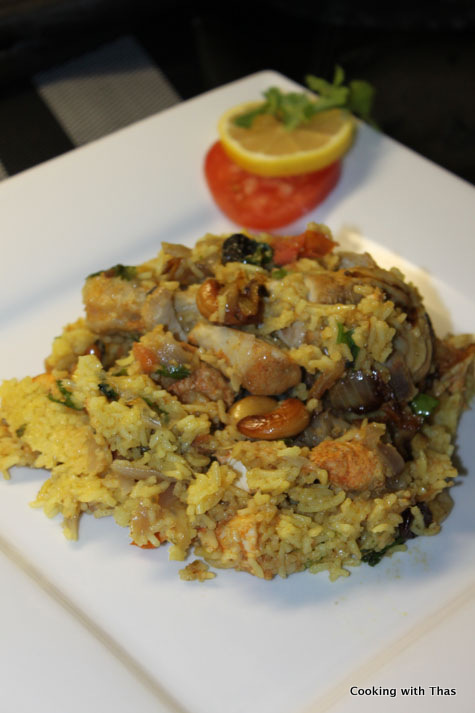 Deliciousness personified…
Chicken biryani gets tastier when fried chicken and rice cooked in chicken broth are used. I'd already posted 4 ways of making delicious chicken biryani, check this out. One of the most popular recipes on my website is fried chicken biryani, I'd gotten so many wonderful feedback for this one and this is my personal favorite biryani as well.
I've also shared 10 tips for making your biryani taste better. To make your chicken biryani taste really really delicious, do these two steps: shallow fry the marinated chicken and cook the rice in chicken broth or water used for cooking chicken and masala. For making this biryani, I went a little over board and incorporated both the two amazing ways. I first shallow fried the chicken and combined it with the onion/tomato masala, cooked for some more time along with water so that the water gets flavorful. Drained the water and used that to cook the rice. This biryani had a blast of flavors, tasted so so delicious. I always finish off the biryani with fried onions, roasted cashew nuts/raisins and cilantro/mint.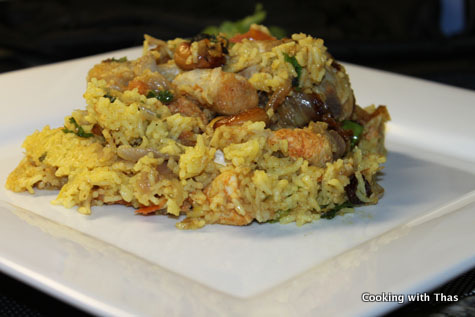 Chicken Biryani - Using Fried Chicken and Rice cooked in Chicken broth
Ingredients
For marinating chicken
Chicken, bone-in pieces- 10 to 12 pieces
Kashmiri red chili powder- 2 tsp
Fennel powder- 1½ tsp
Ginger-garlic paste- 1 tbsp
Lemon juice- juice of ½ lemon
Garam masala- 1 tsp
Salt- to taste
Frying chicken
Oil- enough to shallow fry chicken
To grind
Ginger, chopped- 2 inch
Garlic, chopped- 4 cloves
Green chili- 3
For making masala
Oil- 4 tbsp, used for shallow frying chicken
Whole cardamom- 3
Whole cloves- 2
Cinnamon sticks- 2 inch slices
Bay leaves- 2
Onion, cut long and thin (red or yellow)- 4
Tomatoes, chopped-2
Water- 1 cup
Salt- to taste
For cooking rice
Ghee- 3 tbsp
Whole cardamom, slightly smashed- 2
Turmeric powder- ½ tsp
Basmati rice, rinsed in water- 2½ cups
Water- 2 cups from chicken masala + 2 cups water
Salt- to taste
For garnishing
Fried onion- 1 cut thin and long fried in oil used for frying chicken
Cashew nuts roasted in ½ tbsp ghee
Raisins roasted in ½ tbsp ghee
Cilantro, chopped- 2 handful
Mint, chopped- 15 leaves
Instructions
In a large bowl, marinate the chicken with the above mentioned ingredients "for marinating chicken", keep aside for an hour or overnight if you want.
Shallow fry the marinated chicken in oil till it turns light golden in color, keep aside the chicken.
To the bowl used for marinating chicken, add 4 tbsp water, combine well with the leftover marination paste. Keep aside.
Grind ginger, garlic and green chilies in a blender or coffee grinder to a coarse paste, keep aside.
Place a pressure cooker or a large pan over medium heat, add 4 tbsp oil used for frying chicken.
Add whole cardamom, cloves, cinnamon and bay leaves, saute for a few seconds till it gets aromatic.
Add onions and little salt, saute till it turns golden in color.
Add tomatoes, saute till they are mashed up.
Add the shallow fried chicken to the onion mixture, combine well.
Add the marination paste combined with water, combine well.
Add 1 cup water and salt if needed. Cook covered for 15 minutes along with chicken.
After 15 minutes, drain the chicken masala and save the water. Keep aside the cooked chicken masala.
Frying onion:
Cut the onions long and thin, fry it in the oil used for frying chicken (if needed add more oil) till onions turn golden brown. Transfer to a paper towel.
Roast cashew nuts in ½ tbsp ghee, keep aside.
Roast raisins in ½ tbsp ghee, keep aside.
Cooking Rice
Cook the rice in the same cooker or pan used for making the chicken masala.
Heat the cooker or pan, add ghee.
Add cardamom, saute for a minute.
Add rice and turmeric powder, saute for a minute.
Add the saved chicken masala water, (I had 2 cups of that) also added 2 cups of regular tap water.
Add a few pinches of salt and cook covered for 15 minutes till rice has turned just tender. If more water is needed add little by little.
To the cooked rice, add the cooked chicken masala, combine well.
Top the rice and chicken masala with fried onion, roasted cashew nuts, raisins, cilantro and mint leaves, combine well.
Cover the pan or cooker and place it over low heat for 10 minutes.
After 10 minutes, remove from the heat and keep covered for 15 minutes.
Serve this delicious chicken biryani along with raita, pickle etc.
Leftover biryani can be refrigerated, it tastes much flavorful the next day.
 
Step by step Pictures