Chicken and cooked rice mixed together and made into a delicious one pot meal…
On a lazy day or on a busy day, I only think about one pot meals. This is a delicious dish made with cooked chicken and rice. This recipe is similar to making express biryani without the garnishing and layering of chicken masala and rice. You don't have time for that, so you just have to mix them up and enjoy.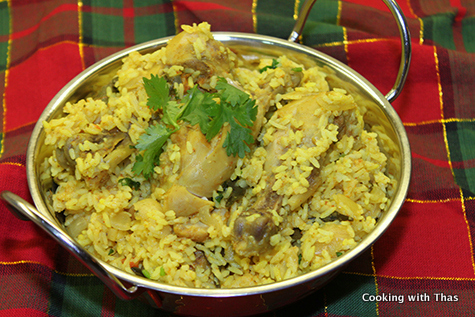 Chicken and Rice- One Pot Meal
Ingredients
Spices to add to Chicken
Chicken legs- 8
Chili Powder- 1½ to 2 tsp
Turmeric Powder- ¼ tsp
Coriander Powder- 3 tsp
Garam masala- ½ tsp
Fennel powder-1½ tsp
Ginger- garlic paste- 1 tbsp
Salt- ¾ tsp
For cooking chicken
Onions, chopped- 5
Tomatoes, chopped- 3
Bay leaves- 2
Curry leaves- 1 sprig (optional)
Cilantro, chopped- ¼ cup
Water- 1 cup
To cook rice in rice cooker
Basmati Rice- 2 cups
Turmeric powder- ¼ tsp
Bay leaves- 2
Whole Cardamom- 2
Whole Cloves- 2
Whole Cinnamon- 2 inch slice
Water- 3½ cups
Salt- ½ tsp
Instructions
In a large non-stick pot, add all the above mentioned spices to the chicken and combine well.
Add chopped onions, tomatoes, bay leaves, curry leaves and cilantro along with 1 cup water, combine well.
Cover the pot with its lid and cook covered for 40 minutes till the chicken has cooked well.
In a rice cooker, combine all the above mentioned ingredients to cook rice. Cook for 20 minutes till the rice has cooked well.
Add the cooked rice to the cooked chicken and combine well.
Taste and add more salt if needed.
Serve along with raita or pickle. Enjoy.