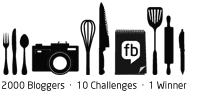 I am absolutely ready and excited to participate in Project Food Blog. As an official contestant for "project food blog" here I am taking up the first challenge…
Reading the caption of this post, you might be wondering what the heck is Project Food Blog. Well, Project Food Blog is the first ever interactive competition where thousands of Foodbuzz featured publishers are competing in a series of culinary blogging challenges for the chance to advance. That's right, this is the competition for the next "Food Blog Star".
There are several exciting challenges and the entries are voted on by Foodbuzz featured publisher peers and by a panel of judges including:
Dana Cowin: Editor-in-Chief of FOOD & WINE Magazine
Nancy Silverton: Founder La Brea Bakery, Co-owner Mozza
Pim Techamuanvivit: Author of ChezPim.com and The Foodie Handbook
The ultimate prize is $10,000 and a special feature on Foodbuzz.com for one year.
I've been receiving emails from Foodbuzz regarding this contest since June. However, it was a couple of days ago I finally asked myself this question "what's stopping me from becoming the next food blog star" and the answer from within was "nothing". Without any further pondering, I created my profile and was ready to kick off. This contest is quite challenging but at the same time it's fun and I don't want to miss out this awesome opportunity.
1) What defines me as a food blogger ?
To start with, I never thought even in my wildest dreams that I would ever write about food nor would I be able to cook some delicious food, but now it's all really happening. To my kids, if I ever have I will say to them that fairy Godmother sprinkled a dash of spices on me while I was sleeping and granted me with the cooking skills. I am sure they will fall for this at least for few years 🙂
I started my food blog a little over a year ago to share my cooking experiments with everyone and to keep track of the recipes that I have learned from my mom and grandma. It didn't take too long for me to realize that it's more than just sharing recipes, I found my blog as a platform to connect with people of the same passion locally and around the world. Through my blog I have created an inseparable bond with my readers and other fellow bloggers globally. I love to stay connected with people from all over the world and to learn different culture.
My blog depicts the simplicity in me by showcasing easy and simple recipes, that way even a novice can prepare my recipes without much effort.
I strongly believe that "health is wealth" and so I share tips for staying healthy and fit. We can still stay healthy without giving up any of those delicious food by following certain healthy tips.
I am dedicated and passionate about whatever I do, my blog proves this as I have been consistent in blogging for more than a year and my enthusiasm hasn't faded away even a bit.
Blogging about food has helped not only to develop my cooking skills, it also helped me in improving my writing skills, photography skills and my people skills.
I strongly believe that food brings family and friends together, hence I will never let go any chance to cook for my family and friends.
I love to talk about food and show how to prepare food to others, this forced me to create few cooking videos as well.
2) Why I should be the next Food Blog Star?
Becoming a popular food blogger has been one of my dreams ever since I started my blog. Often, when I cook in my kitchen I pretend in my mind that my show is airing on food network channel and I imagine talking endlessly about food and cooking energetically so that my audience will be entertained to the core. So I am already a star in my kitchen!
I definitely have the passion for food and different cuisines. I have experimented many international dishes in my kitchen and have dined in many restaurants around the world to enjoy and embrace different cuisines.

Me enjoying Lobster bisque at Cite restaurant in Chicago.

My husband and I with friends enjoying authentic Lebanese food at Baladna restaurant, Dubai
I am daring enough to take up any challenge, I have participated in few contests and had won a few. One notable one was the Royal Foodie Joust contest hosted on Foodie Blog Roll. Here is the winning recipe, Mussel Mushroom in Sparkling Red Wine.
Besides blogging, I am confident enough to talk about food and share my thoughts about cooking in front of any crowd.
To win this contest I obviously need the votes from other bloggers. I hope they will vote for me to advance through the challenges. I will make sure to remind you about the voting schedules but will never trouble you by my constant begging for votes.Thanks in advance for your support and good luck to everyone who are competing in this contest. Let us have some fun cooking, baking and blogging.
Have a look at my Food Blog Star project profile: