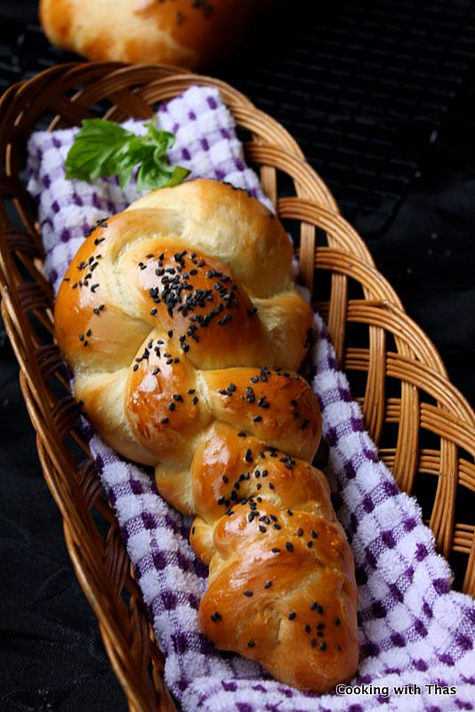 Delicious sweet egg bread that's braided…
I made this challah bread a few months ago and I kept postponing to compose the recipe. It's big time I share this recipe as this is one delicious bread. Well, baking a bread or a cake is not that hard, however a lot of factors have to be co-ordinated to get the perfectly baked bread or bake or pastry. It could depend on the temperature of the room, temperature of the oven, how well the dough is kneaded, the softness of the dough, how long the dough has been let to ferment and a lot more factors. If everything goes well you will get to enjoy soft and delicious bread.
The speciality of challah bread is that it's braided and it looks beautiful. Also, this one has egg and sugar added which makes it even more tastier and softer. I had so much fun making this bread.
Before I started braiding the dough, I watched this video a few times which helped me a lot else I would have been a disaster. The easiest is to braid with 3 strands, you could even braid with 6 strands which is obviously much complicated. Now, if you think this is hard you just have to use 2 long strands and just cross it over.
Video on how to braid Challah bread using 3 strands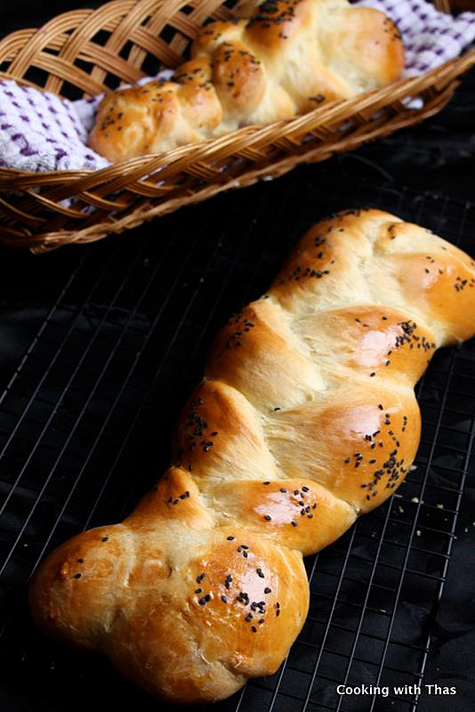 Preparation Collage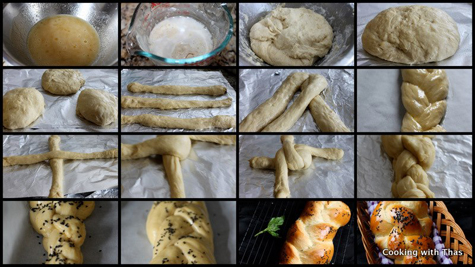 Challah Bread - Braided Sweet Egg Bread
Ingredients
Warm water- 1¼ cup
Active dry yeast- 2 tsp
Sugar- ⅓ cup
Vegetable oil- ¼ cup
Eggs- 4, large
Salt- 1 tsp
Bread flour or all-purpose flour- 4½ to 5 cups
Sesame seeds- to sprinkle on the dough
Instructions
In a large bowl, combine warm water, ¼ cup flour, 1 tsp sugar and yeast, keep aside for 10 minutes.
After 10 minutes, whisk in the rest of the sugar, oil, 3 eggs and oil, make a smooth paste.
Add flour, 1 cup at a time and combine well using your hands. It will be very sticky in the beginning, as you add the flour it will get easier to knead.
I had to add total 4½ cups of flour to get a soft dough, so add the flour slowly till you get a soft dough. Don't add too much flour as the dough turns hard.
Knead the dough well and place it in a bowl till it rises to double the size for 2 hours.
After 2 hours, punch the risen dough down and place on a lightly floured surface, knead for 5 more minutes add more flour if needed.
Divide the dough into 3 parts.
Roll each parts into long strands and braid it. Please watch the video on how to braid the challah bread.
You could make one large braided bread or two medium sized breads.
Pace the braided dough on a baking sheet and cover with a damp kitchen towel.
Keep aside the dough and let it double up in size for about 1 hour.
When you poke the dough it should not spring back, this means it has risen well.
Preheat the oven to 325 F.
Beat 1 egg well and brush the beaten egg over the braided dough.
Sprinkle sesame seeds over it.
Place the baking sheet in the oven and bake for 40 minutes or till the bread has turned golden in color.
If the top of the bread is browning too fast you could cover it with an aluminum foil towards the end and bake it.
Let the bread cool down completely.
Serve along with butter.
Leftovers can be used for making bread pudding, french toast etc.
Notes
You can braid with 3 strands or with 6 strands.

Or just use 2 long strands and cross it over, this looks beautiful too.