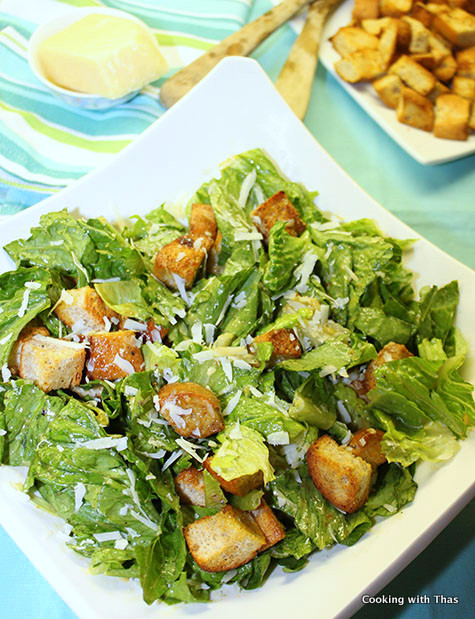 This is the best tasting Caesar salad and this beats the restaurant style…
One of my most favorite salads is Caesar salad, a popular salad served in most of the American and Italian restaurants and loved by most people. Making the classic caesar salad from scratch had been on my top to-do list for so long. Glad that I've finally tried it and it tasted absolutely delish.
Last Wednesday, after work I went for an Italian/French grocery shopping spree and came home with baguettes, anchovies fillets packed in jars, gnocchi, parmesan cheese and artisanal pasta. As soon as I reached home, I decided it's going to be an Italian dinner. I made Caesar salad and Sun dried tomato pesto fettuccini.
Did you know??? Caesar salad was invented by Caesar Cardini, an Italian-American restaurateur in 1924 in Tijuana, Mexico.
It's said that the original recipe did not have anchovies added to it, Worcestershire sauce was added which imparted the anchovy flavor. In this recipe, anchovy fillets that are cured and preserved in oil are added. Another ingredient that's added in Caesar salad is raw egg. Some people substitute mayonnaise for raw eggs. The baked croutons gives an amazing crunch to this salad. Overall, I find this recipe to be a winner.
Preparation Pictures
Seasoned bread pieces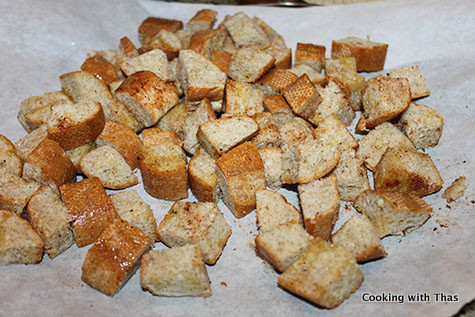 Baked Croutons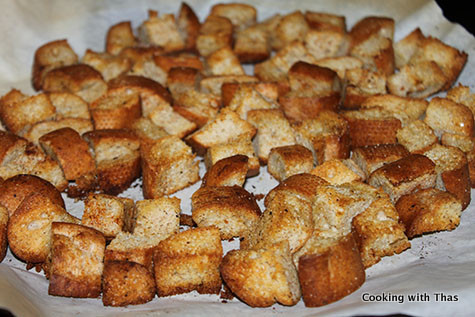 Anchovy fillets: salt cured and dipped in oil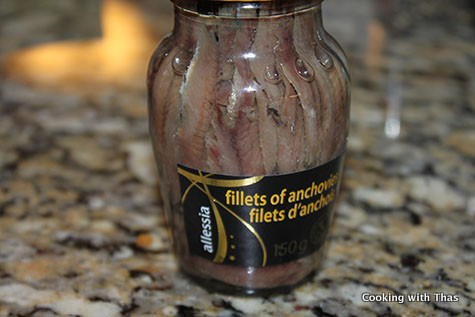 Garlic and anchovy fillet paste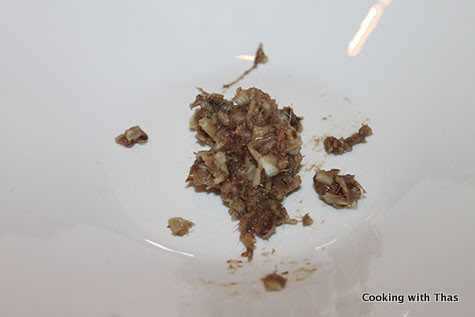 Whisk the egg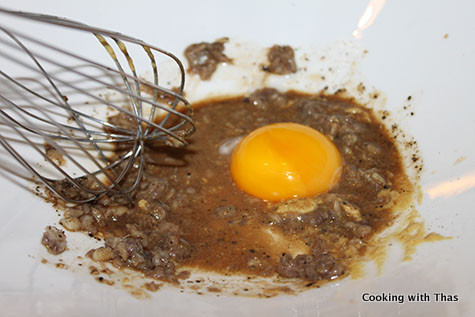 Add olive oil and whisk
After adding romaine lettuce and croutons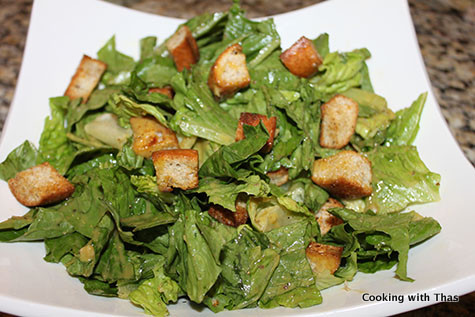 Add freshly grated parmesan cheese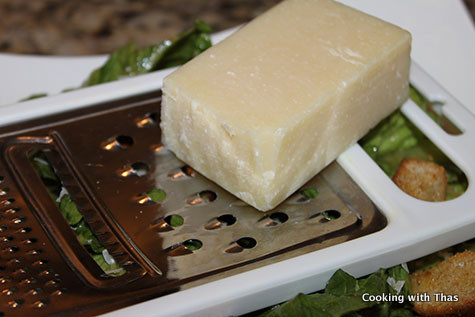 Here is the best tasting Classic Caesar Salad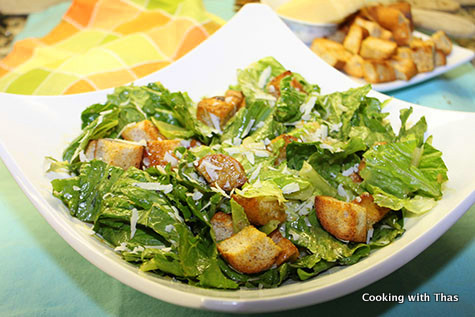 Caesar Salad Recipe
Ingredients
For making Croutons
Butter, unsalted and melted- 2 tbsp
Olive oil- 1 tbsp
Baguette or Italian bread, diced into 1 inch slice- 1 loaf
Ground Cayenne pepper- ½ tsp
Ground black pepper- ¼ tsp
Salt- ½ tsp
For making Salad
Garlic cloves- 2
Anchovy fillets- 4 fillets, drained (salt cured and dipped in olive oil found in jars or cans)
Ground black pepper- ½ tsp
Lemon juice, freshly squeezed- 1 tbsp
Worcestershire sauce- 1 tsp
Dijon Mustrad- ½ tsp
Egg yolk- 1
Extra virgin olive oil- ½ cup
Romaine lettuce, chopped- 1 bunch
Freshly grated parmesan cheese- ½ cup
Instructions
Preheat oven to 400 F or 200 C.
Dice the baguette or Italian bread into 1 inch pieces like croutons.
In a bowl, combine the melted better with olive oil.
In another bowl, season the diced bread pieces with ground cayenne pepper, ground black pepper and salt. Combine well.
Pour the melted butter and oil over the seasoned bread pieces and combine well.
Spread the bread pieces on a baking sheet and bake for 10 minutes till the croutons turn golden.
Keep aside the croutons.
Using a mortar and pestle, mash the garlic along with the anchovy fillets into a smooth paste.
Note: Do not use fresh Anchovy fillets. Use the fillets that are salt cured and preserved in oil that are packed in jars or cans.
Transfer the paste into a salad bowl.
Using a whisk, beat the ground black pepper, lemon juice, Worcestershire sauce, dijon mustard and egg yolk till thickened.
Slowly add the olive oil and whisk everything together.
Anchovy fillets are salt cured, so no need to add any salt.
Add the chopped romaine lettuce, baked croutons and grated parmesan cheese, toss everything well.
Serve immediately, you could grate more parmesan cheese on the top.
Notes
Very important: Raw eggs should not be consumed by pregnant women, babies, young children, or anyone whose health is compromised.