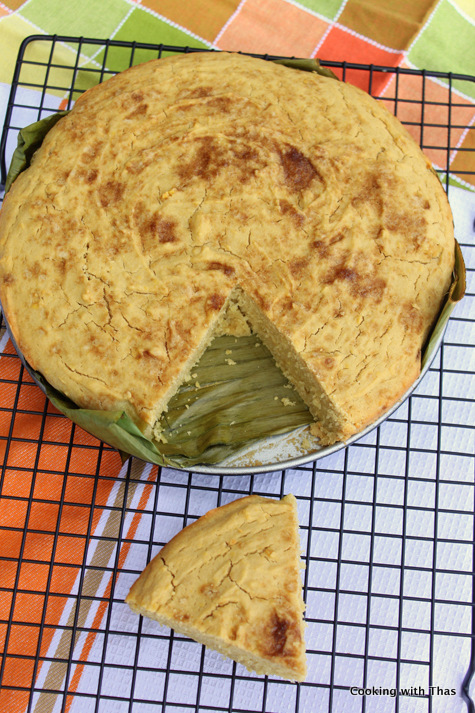 Bibingka is a popular dessert in Philippines. It's made with rice flour and coconut milk and it's baked…
Do not confuse this with the Goan speciality Bebinca, even though the names sound the same that's an entirely different dessert made with all purpose flour batter (many layers of crepes are made) and is cooked over stove top.
My intention was to make the Goan Bebinca, while Google searching I stumbled upon the recipes for making the Filipino speciality Bibingka. I found this dessert interesting as it's made with rice flour and coconut milk and it's baked. The traditional method of making this dessert is rather time consuming and is poured into a special clay pan and baked in a clay oven. I found a few simple recipes that called for only a few ingredients, so I went with that.
This dessert tasted more like a sponge cake, you can feel the taste of the eggs as well. This is not that sweet so people who lack sweet tooth can enjoy too. Also, it's gluten free. The pan used for making this should be lined with banana leaf which impart a nice aroma to this cake. I liked this cake when it's slightly warm so I microwaved the leftovers for next day breakfast and enjoyed it.
Here is the recipe for making Kinnathappam or steamed rice cake in a plate.
Recipe source, here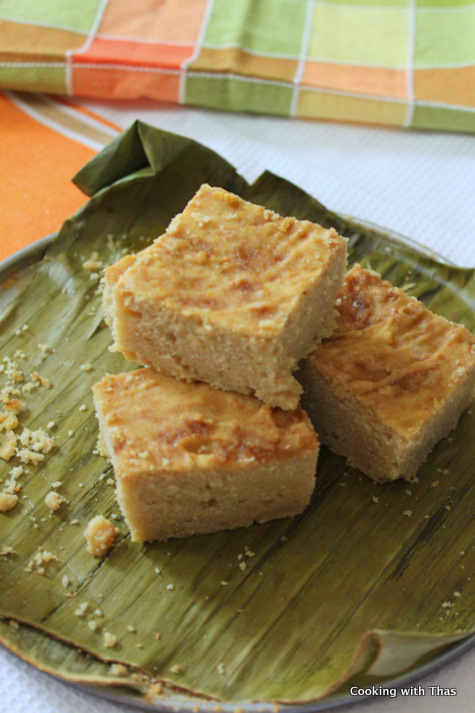 Preparation Methods
The batter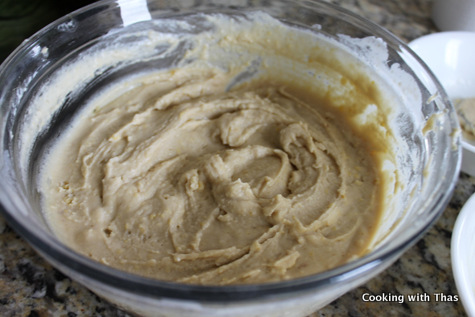 Pan lined with banana leaf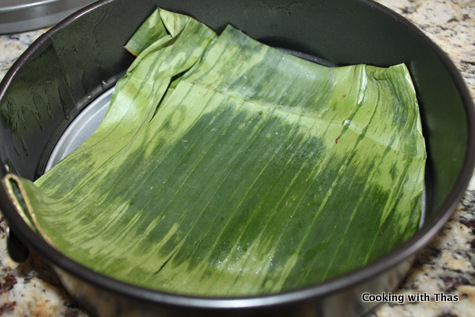 Batter poured into the pan and sprinkled with brown sugar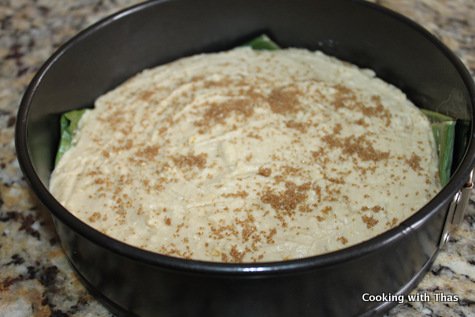 Bibingka or Rice Cake- Filipino Dessert
Ingredients
To make batter
Rice flour- 2 cups
Brown sugar- 1 cup
Baking powder- 1 tbsp
Eggs, beaten- 3
Unsalted butter, melted- 3 tbsp
Coconut milk- 1 can, 400 mL
Other ingredients
Banana leaf (optional)- 1
Brown sugar to top batter- ¼ cup
Unsalted butter, sliced- 1 tbsp, to garnish
Grated coconut, to garnish
Instructions
Preheat oven to 325 F or 160 C.
If using banana leaf, line a 8 x 3 inch baking pan with banana leaf and grease with non-stick cooking spray.
In a large bowl, thoroughly combine the rice flour, brown sugar, baking powder, beaten eggs, butter and coconut milk to a smooth batter.
Pour the batter into the prepared pan, even out the top.
Sprinkle ¼ cup brown sugar over the batter.
Bake for 1 hour or until a fork inserted into the center comes out clean.
Remove the pan from the oven, let cool down a bit.
Cut the cake into desired shapes, while serving top the cake with a slice of butter and sprinkle a few teaspoons of grated coconut.
You could even top the cake with honey or maple syrup if more sugar is needed.
Leftovers can be refrigerated, before serving warm it a bit in the microwave or have it chilled.