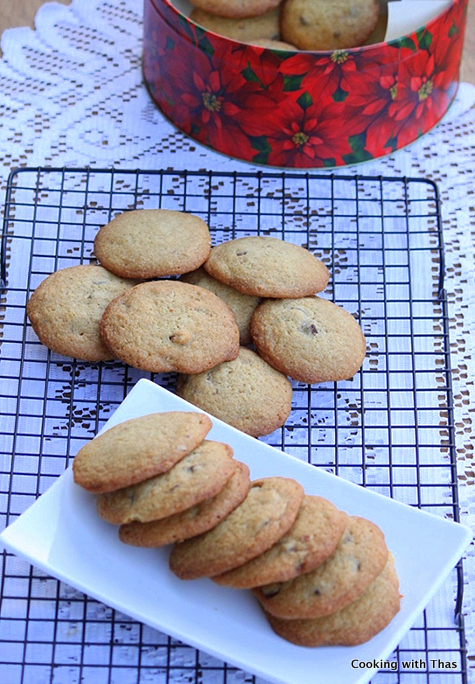 Soft, chewy and delicious chocolate chip cookies…
Finally, I made chocolate chip cookies. This is one of the most popular cookies in the US, can be seen at almost all coffee shops and you will be treated with this at most houses too.
Traditional way of making this cookies involve the addition of both white and brown sugar. I love the addition of brown sugar to my cakes and cookies, it gives a brilliantly nice caramelized flavor. This is an easy to make and delicious cookies- soft and chewy and just melts into your mouth.
Recipe Courtesy: Joyofbaking
Making chocolate chip cookies video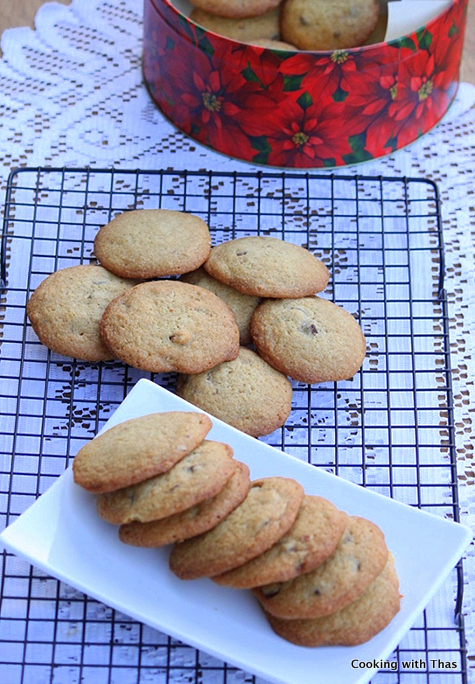 Best Chocolate Chip Cookies
Ingredients
Butter, unsalted and at room temperature- 1 cup or 2 sticks
Eggs, large- 2
Granulated white sugar- ¾ cup
Light Brown sugar- ¾ cup
Vanilla extract- 1½ tsp
All purpose flour- 2¼ cups
Baking soda- 1 tsp
Salt- ½ tsp
Semisweet chocolate chips- 1½ cups
Pecans or Walnuts- 1 cup (optional)
Instructions
Preheat oven to 350 degrees F or 190 degrees C.
In a bowl: combine the flour, baking soda and salt together, keep aside.
If using stand mixer: Add the butter into the stand mixer bowl, using the paddle attachment beat at medium speed till creamy.
Or use electric hand mixer.
Add white and brown sugar, beat for 2 minutes. Using a rubber spatula scrape down the sides of the bowl.
Add eggs, one at a time and beat well after each addition.
Add vanilla extract and beat well.
Add the combined flour, baking soda and salt, beat until well incorporated. Scrape down the sides of the bowl using a rubber spatula.
Add chocolate chips and combine well.
If using nuts, add that and give it a mix.
Use a baking sheet lined with parchment paper.
For making large cookies, drop 2 tablespoons of cookie batter onto the baking sheet.
For making small cookies, drop 1 tbsp of cookie batter.
Place the baking sheet on the center rack in the oven.
Bake for 18 minutes till golden brown around the edges are formed.
Remove the cookies from the oven and let cool down completely on a wire rack, the cookies will set well.
Enjoy with a cup of coffee or tea or milk.
Notes
Cookie dough can be kept in the freezer, make balls out of the dough and place them on a baking sheet lined with parchment paper. Freeze them.

After they are frozen, you could place the frozen dough balls in a plastic bag, close and freeze.

While baking, place the frozen dough balls on a baking sheet and bake in a 350 F preheated oven- baking time might have to be increased 15 to 18 minutes.