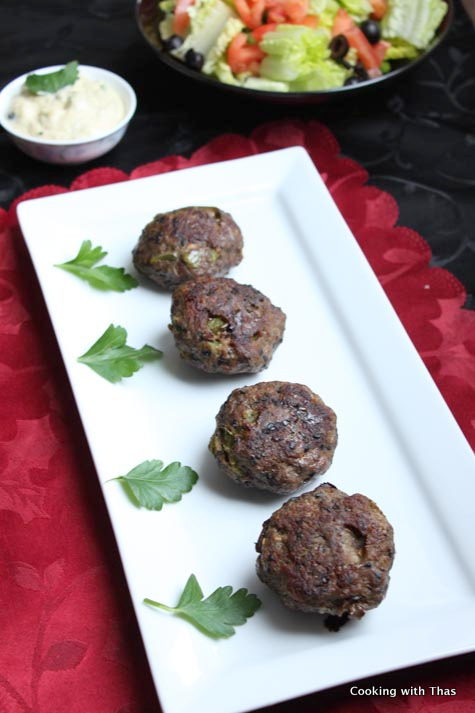 It's baked, it's extra lean ground beef, it has sesame seeds and is delicious…
I baked these extra lean ground beef patties last weekend, served them with salad and pesto mayonnaise dipping (recipe coming soon). I will be mostly seen least enthusiastic about cooking during day time that too on a weekend. I will be a couch potato either watching TV or browsing the internet or reading something or chatting with friends/family. My hungry man would make a few requests at first, then he would get a little intense, that's when I consider ungluing myself from the couch and make a move to the kitchen. I'll step into the kitchen with my mind full of this thought  "How to make a yummy lunch without much effort?"
So, for last Saturday's lunch I made these ground beef patties or cutlets. All I did was mixing up the ground beef along with some seasonings, rolled it into small balls, placed them on the baking sheet and put it into the oven. After that I resumed gluing to the couch. Seeing me sitting relaxed, my man thought that I had zero intention to make lunch and he almost got ready to go out for lunch. I stopped him and said "you'll be enjoying a delicious lunch soon". The baked ground beef patties came out perfect out of the oven, I served them with salad and pesto mayo dipping. My man felt glad that he didn't go out for lunch and I was glad that I'd made a yummy lunch without much effort.
Make it healthy: Use extra lean ground beef, bake it and serve with lots of greens/salad.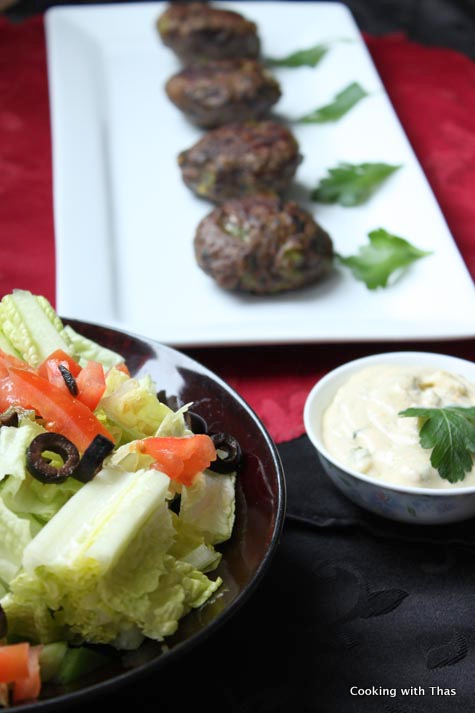 Step by Step Pictures
Baked Sesame Ground Beef Patties or Cutlets
Ingredients
Extra-lean ground Beef- 1 lb or ½ kg
Dried basil- 1 tsp
Dried oregano- 1 tsp
Ground pepper- ½ tsp
Worcestershire sauce - 1 tbsp (or use soy sauce)
Dried chili flakes- ½ tsp
Green pepper, chopped very small- 1
Sesame seeds- 2 tbsp
All-purpose flour- ⅓ cup (or use gluten free flour)
Salt- 1 tsp
Instructions
Preheat the oven to 400 F or 200 C.
In a large bowl, combine all the above mentioned ingredients well.
Make medium sized balls out of the mixture and flatten it between the palm of your hands.
Line a baking sheet with aluminum foil and grease the foil with non-stick cooking spray.
Place the ground beef patties on the baking sheet and bake for 30 minutes.
After 30 minutes, flip the patties over and bake for another 15 more minutes.
Remove from the oven and serve warm along with salad.
You could even place these patties between toasted breads/buns and top with cheese or wrap it in a tortilla or pita bread along with greens/veggies.