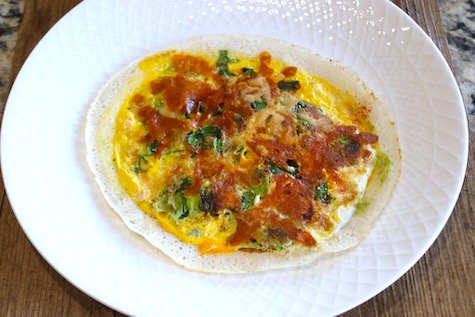 When dosa got a fancy makeover…
Dosa is a type of thin, crisp, crepe-like pancake that is popular in South Indian cuisine. It is typically made from a batter of fermented rice and black lentils, and is often served with a variety of accompaniments, such as chutney, sambar, and coconut chutney. Dosa is a staple dish in South India, and is enjoyed for breakfast, lunch, and dinner. It is also a popular street food and is widely available at restaurants and food stalls across India and in many other parts of the world.
For weekend breakfast, I planned to make avocado toast with eggs. I also had some leftover dosa batter & that's when it struck me I should be making avocado egg cheese dosa. It was like dosa got a fancy makeover.
Turned out delicious & a perfect breakfast dish.
Avocado Egg Cheese Dosa | Breakfast Recipe
Ingredients
For making 1 avocado egg cheese dosa
Dosa batter
Avocado, ripe- 1
Eggs- 1 or 2
Ground black pepper- a few pinches
Salt- ⅛ tsp
Cheddar cheese- ¼ cup
Paprika- a few pinches
Green onions, chopped- 1 tbsp
Cilantro, chopped- 1 tbsp
Ghee or oil- ½ tbsp
Instructions
Have the dosa batter ready, the recipe link is provided in the description.
In a bowl mash 2 ripe avocados.
In another bowl, crack 2 eggs, beat well using a whisk. Season with ground black pepper & salt.
Place a tawa or pan over medium-high heat. Grease with ½ tsp ghee or oil.
Pour a spoonful of dosa batter, spread into a round shape.
Drizzle 1 tsp ghee or oil.
Spread mashed avocado & pour the beaten egg; spread the egg well.
Sprinkle paprika.
Top with cheddar cheese.
Garnish with green onions & cilantro.
Let the eggs cook for a minute.
Using a wide spatula, flip the dosa over & let cook for 2 to 3 minutes till the eggs have cooked well.
Transfer to a plate.
Enjoy while it's warm.