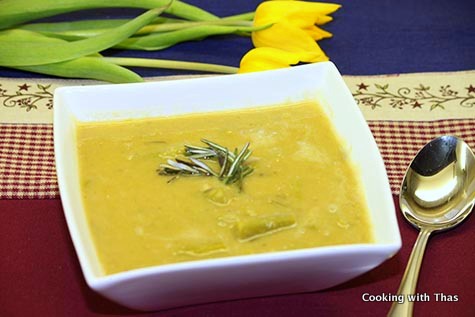 Asparagus and red lentil together makes a comforting soup…
For the past couple of weeks, I've been waking up to the chipping of the birds, enjoying rainy and foggy weather and my tulips are popping out of the ground…Yes, Spring has sprung. I literally cannot wait for the weather to warm up and to get back to gardening, outdoor activities and travelling. Couple more months of wait, can't wait, can't wait…
You all know by now how much I love soups, especially on a cold rainy day. A couple of bowls of soup for lunch and dinner, I'll be one happy person. Soups can be made with a variety of ingredients and I do dare mixing up many ingredients while making soups. It's nutritious, comforting and delicious.
The other day, I combined asparagus and red lentils together and turned them into a soup. I am a sucker for adding red lentils to my soups. They thickens up the soup, adds good texture and taste, protein rich and they are nutritious. Red lentils, I am your biggest fan…
I didn't add a lot of seasonings to this soup, kept it pretty simple yet tasted delicious and comforting…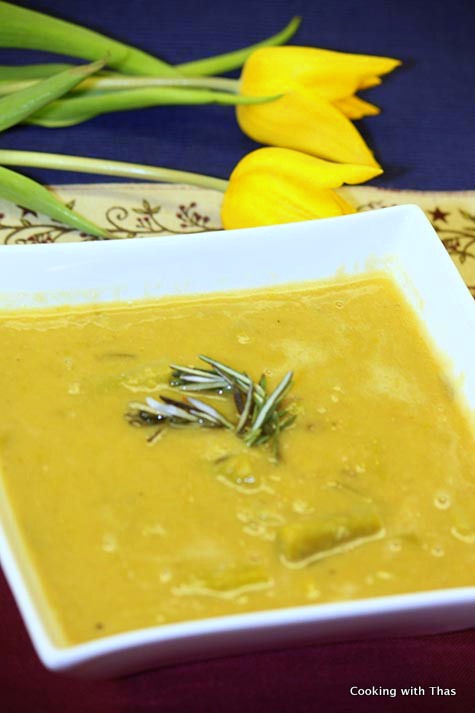 Asparagus Red Lentil Soup
Ingredients
Oil- 1 tbsp
Dry Red Chili flakes- ¾ tsp
Fresh Rosemary leaves- 1 sprig
Yellow Onion, chopped- 1
Asparagus, hard ends removed and spears cut into 2 inch slices- 1 bunch or 10 spears
Red lentil- 1 cup
Chicken stock, low-sodium- 3 cups (or use vegetable stock)
Ground pepper- a few pinches
Salt- to taste, if required
Instructions
Place a large non-stick pan over medium heat, add oil. Let it turn hot.
Add dry red chili flakes and rosemary leaves, saute for a few seconds. Do not burn the chili flakes.
Add onion, saute till translucent.
Add asparagus and red lentil, saute for a minute.
Add chicken stock (or 2 chicken bouillon cubes mixed with 3 cups water).
Cook covered till asparagus and red lentil turns soft.
Take out a few asparagus from the mixture and save them for garnishing.
Add the cooked asparagus and red lentil mixture to a blender jar and coarsely puree or use a hand blender. Avoid making into a very smooth paste.
Transfer the pureed soup back to the pan.
If the soup is too thick, add some chicken stock or water to thin it down.
Heat up the soup for 2 minutes.
Add ground pepper, if required add salt as well. Combine well.
Serve in soup bowls, garnish with asparagus and rosemary leaves.
Enjoy with crackers or rolls or bread.
Notes
To make vegetarian version: add vegetable stock instead of chicken stock.