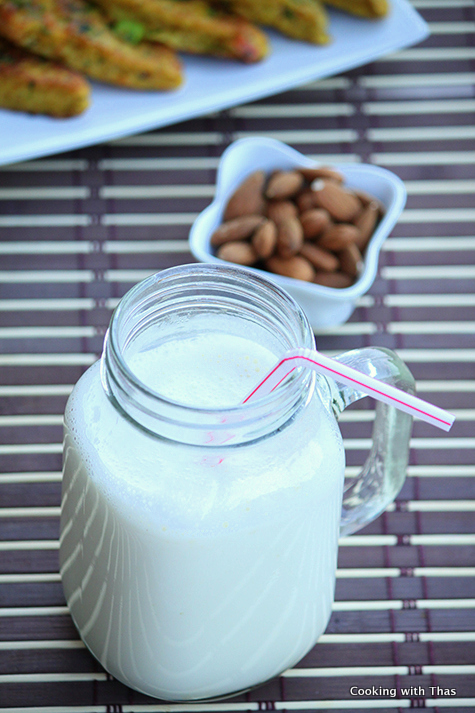 Milk flavored with almonds and saffron, healthy and tasty…
You can replace condensed milk with honey or sugar. Adding ground cardamom is optional, however, it will enhance the flavor this drink. Chill before serving and enjoy.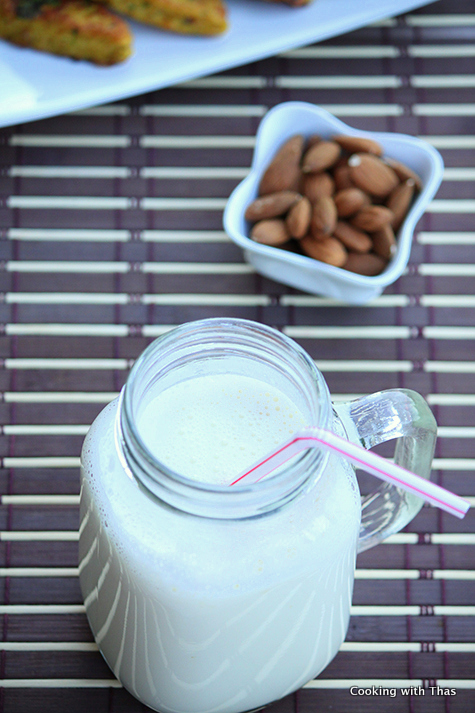 Almond Saffron Milk- Badam Milk Recipe
Ingredients
Raw Almonds- 15 (unsalted)
Milk- 2 cups
Saffron strands- 2 pinches
Ground Cardamom- ¼ tsp (optional)
Sweetened Condensed milk- ½ cup ( or add sugar or honey)
Instructions
Soak the saffron strands in 1 tbsp water for 5 minutes.
Soak the almonds in hot water for 30 minutes.
After soaking, peel off the skin.
Grind the peeled almonds with ¼ cup milk to a smooth paste.
Place a saucepan over medium heat, add 1¾ cups milk, let the milk boil.
Add ground almond paste, condensed milk, ground cardamom and saffron water. Lower the heat and simmer for 5 minutes, make sure to stir every 1 minute.
Remove the pan from the heat, let cool down.
Chill the almond milk in the refrigerator for 1 to 2 hours.
Pour in tall glasses, garnish with chopped almonds and enjoy.