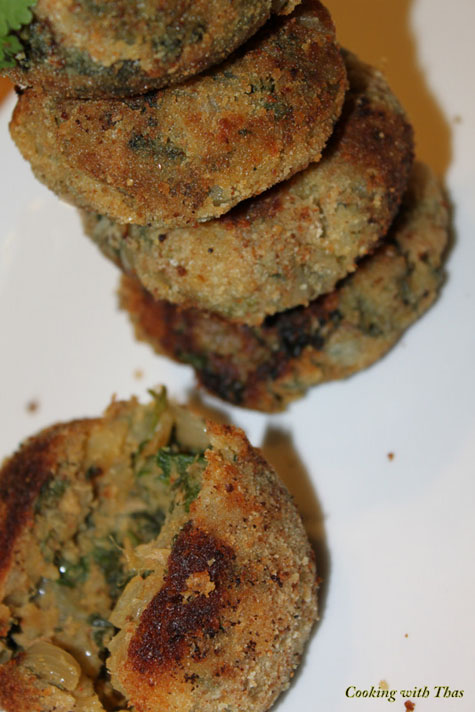 When canned Tuna is made into a perfect appetizer: Tuna cakes.
While walking through the canned meat aisle in the stores and looking at the canned tunas, have you ever wondered how can you transform those canned tunas into a scrumptious dish? I used to think whenever I glanced at those and never really got what will I make out of those. But now, I don't have time to think about all these, as I will be seen busy snatching all the cans and putting into my cart. I finally figured out what I can do with these canned tuna meat, in fact I am now totally obsessed with them.
My pantry is seldom seen without these canned tunas to make delicious tuna cakes when I crave for it. I had taken these tuna cakes for the cooking meet up that I had attended last weekend and all the foodies there loved it. I introduced these as tuna cutlets but the foodies there instantly renamed it to tuna cakes as these resembled to crab cakes in preparation and looks. Honestly, even I loved the new name they gave it and even I started calling them as tuna cakes.
Making tuna cakes is similar to making meat cutlet I had posted before, but I must admit tuna cakes tasted better than those with chicken or meat. I also added spinach to the tuna mixture and it tasted really good and looks good with the green shades in the cakes. You could also make these without the spinach.
Preparation Pictures
Tuna cooked with onion and spinach
Roll into balls and flatten them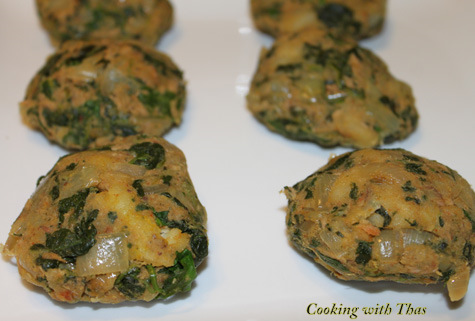 Tuna cakes without the Spinach:
Tuna Spinach Cakes or Cutlets
Ingredients
For making the stuffing
Onion, large, chopped- 3
Ginger-Garlic paste- ½ tbsp
Spinach, chopped- 2 cups (optional)
Garam masala ( cardamom-2, cloves-2, cinnamon stick- ½ inch slice- grind into powder)- 1 tsp
Chili powder- 1 tsp
Turmeric powder- ¼ tsp
Fennel powder- 2 tsp
Canned Tuna, in Water- 12 oz
Cilantro chopped- 1 handful
Potatoes, cooked -2
Vegetable oil- 1 tbsp
Salt- to taste
While frying
Egg white- of 2 eggs (or use egg whites and yolks)
Bread crumbs- 2 to 3 cups or enough to coat the tuna cutlets
Vegetable oil- for frying
Instructions
Boil 2 potatoes in boiling water until the potatoes are fully cooked or cook in the microwave. Peel the skin off and keep aside.
Place a wide non-stick pan or skillet over medium heat, add oil, then add onions, salt and saute until onions are translucent.
Add ginger-garlic paste and saute for a few minutes.
Add the spinach and saute for a few minutes.
Now add the canned tuna along with garam masala, chili powder, turmeric powder and fennel powder, combine well.
Mix everything well, when the tuna is almost cooked, add chopped cilantro and combine well.
Remove the pan from the heat.
Add the cooked, peeled potatoes and mash it with a wooden fork or spoon until it is combined well with the tuna mixture.
When the mixture has cooled down, make medium sized balls out of these and flatten between the palm of your hands and keep aside.
Frying
Heat a deep frying pan, add enough oil required for frying.
Whisk egg whites of 2 eggs in a small bowl or use egg whites and yolks.
Spread the bread crumbs on a plate.
Take each tuna balls, first dip it in the egg and then gently roll it into the bread crumbs, coat it with the crumbs evenly.
Fry them in hot oil until golden brown.
Transfer to a paper towel. Serve with ketchup or any other dipping sauce.