Italian rice delicacy and it was Yum…
Whenever I dine at Italian restaurants, I make sure not to miss risotto, it's one of my favorites. I've had risotto at many restaurants, one of the flavors I love the most in risotto is saffron. Well, saffron is my most favorite spice, so obviously I love that the most.
Risotto is a rice based dish, however the cooking style of it is different from regular white or basmati rice. You first need to get "Arborio rice" to make risotto. You absolutely cannot make risotto with any other rice. In North America, arborio rice is available at almost all grocery stores.
Making risotto is very unlike making other rice, cooking other rice is pretty easy; you just have to combine water and rice and cook it in a rice cooker or in a saucepan till the rice has cooked. However, making risotto is a little tedious, you have to add water or chicken/veggie stock to the arborio rice little by little and keep stirring till the water has absorbed, it will take about 30 minutes or so to cook the rice. Risotto is usually made creamy by adding cream or cheese. Literally, any kind of seasonings can be added to risotto. I like to have my risotto not spiced up or flavored up too much. You could even add any kind of veggies to the risotto; my personal favorites are mushrooms, butternut squash, shrimp etc.
I love the addition of saffron to my risotto, so this time I made saffron mushroom risotto and served with pesto chicken. We had an amazing Italian dinner at home. It was YUM, YUM, YUM!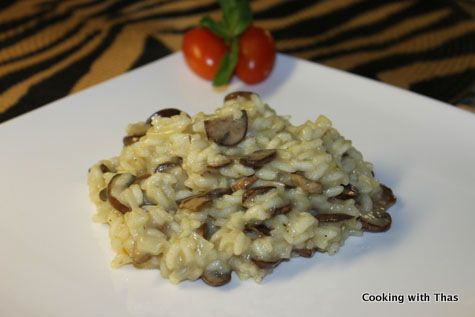 To see all the 881 recipes published so far, please go to the recipe index.
If you enjoyed this post, subscribe to receive future posts


You can also subscribe via Facebook, Twitter and RSS