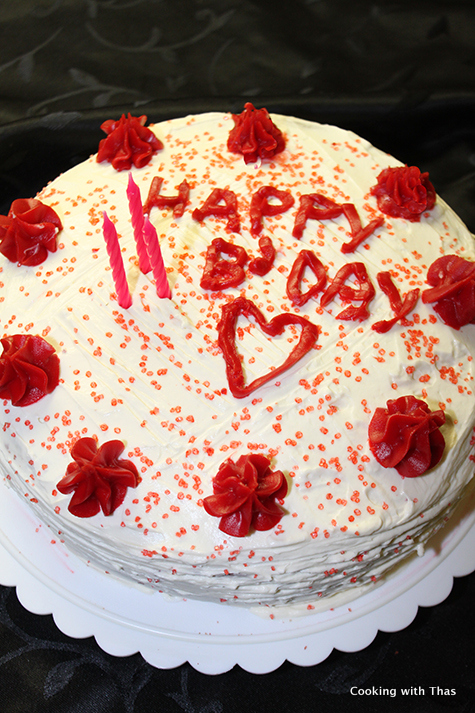 Red Velvet cake frosted with delicious mascarpone, cream cheese and whipped cream frosting…A vibrant cake for any special occasions.
I baked this cake for my Man's birthday a couple of days ago. I always bake a cake from scratch for all special occasions, and I try different cakes every time. Making red velvet cake had been on my top to bake list for so long and this time I went ahead and made this cake.
I have never felt baking to be tiring, when I bake I will be seen indulged in it and it's quite relaxing for me. For making the red velvet cake, you have to add red color. Of course, that's what gives this cake the vibrant red color. The recipe also called for cocoa powder, which gave a slight chocolatey taste. What I loved the most about this cake is the frosting. It's different from the usual whipped cream or cream cheese frosting. It's a combination of mascarpone cheese, cream cheese and whipping cream. My favorite cheese is without a doubt mascarpone cheese, hence this frosting has become my favorite.
Make your special occasions even more special by baking this cake or turn a regular day into an exciting one.
Recipe Source: Joy of Baking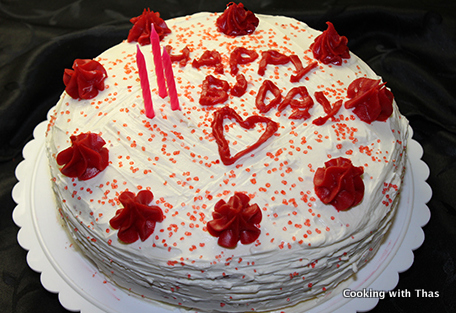 Preparation Pictures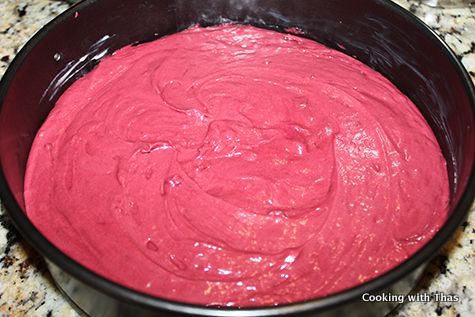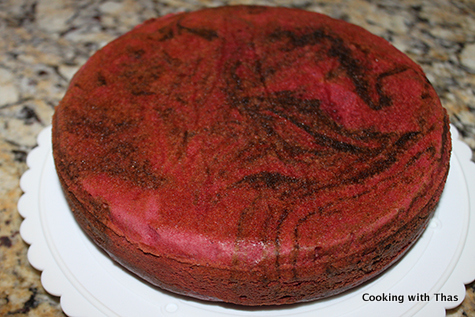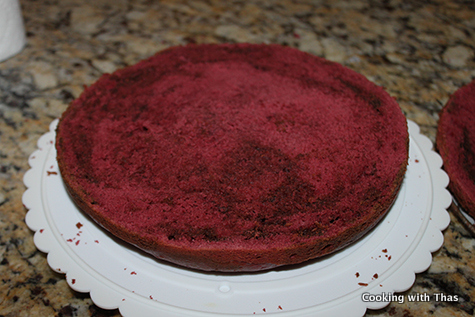 Beating mascarpone and cream cheese
After adding cold heavy whipping cream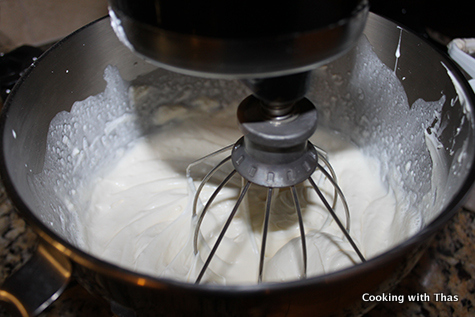 Whip till whipping cream turns stiff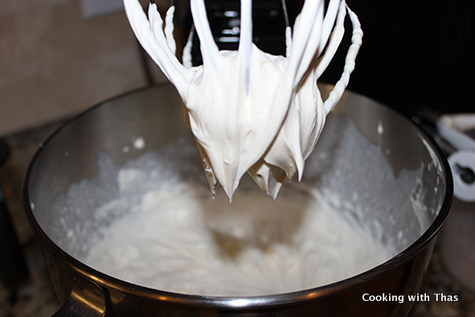 Frost over cake layer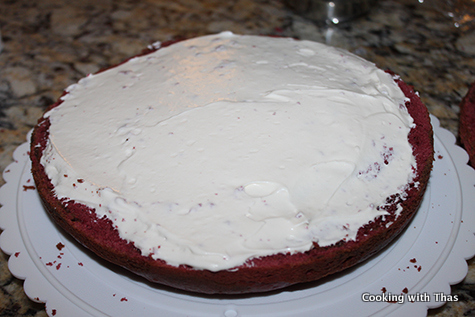 Frost the entire cake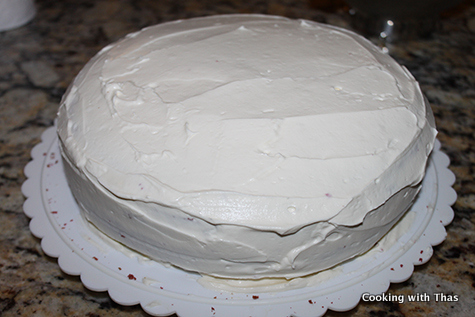 Red Velvet Cake- with Mascarpone Cream Cheese Frosting
Prep time:
Cook time:
Total time:
Ingredients
For making the cake batter
Cake flour- 2½ cups
Cocoa powder- 2 tbsp
Salt- ½ tsp
Unsalted butter, at room temperature- ½ cup
White sugar- 1 cup
Eggs, large- 2
Vanilla extract- 1 tsp
Buttermilk- 1 cup
Liquid Red food color- 2 tbsp
White distilled vinegar- 1 tsp
Baking soda- 1 tsp
For making Frosting
Mascarpone cheese, room temperature- 8 ounce or 227 grams (or replace with cream cheese- 8 ounce)
Cream cheese, room temperature- 8 ounce or 227 grams
Cold heavy whipping cream- 1½ cups
Powdered or confectioners sugar- 1 cup
Vanilla extract- 1 tsp
Instructions
Preheat the oven to 350 F or 175 C, place the rack in the center of the oven.
If you want 2 cakes, bake in 2 separate 9 inch cake pans.
I only made 1 cake, so baked in one large cake pan.
Grease the bottom and sides of the pan with butter and line the pan with parchment paper. Keep aside.
In a bowl, sift the cake flour, cocoa powder and salt together. Keep aside.
Into the bowl of a stand mixer (or use electric hand mixer) add unsalted butter at room temperature and beat using paddle attachment till butter turns soft and creamy.
Add the sugar and beat for 3 minutes.
Add the eggs one at a time and beat till well mixed.
Using a rubber spatula scrape down the sides of the bowl.
Add vanilla extract and beat for 2 minutes.
In a measuring cup, whisk the buttermilk along with the liquid red food color.
Alternatively add the flour mixture and the buttermilk-red color mix to the beaten butter in three additions, beginning and ending with flour. Mix at low speed.
In a small bowl, combine the white vinegar and baking soda. The mixture will bubble up, immediately add it to the cake batter and combine well.
If using 2 pans, divide the batter evenly between the 2 cake pans and smooth the top of the cake batter.
If using only one large cake pan, pour the batter into just one pan.
Place the pan in the preheated oven and bake for 40 to 45 minutes or until a fork inserted into the center of the cake comes out clean. If the center hasn't cooked well, bake for a few more minutes.
Remove the pan from the oven, let cool down for 10 minutes.
Invert the cakes on a wire rack and let cool down completely.
For better frosting the cakes, cover the cakes with plastic wraps and place in the refrigerator for an hour.
Making the frosting
If you don't have mascarpone cheese, use 8 ounce cream cheese. So, you will be using total 16 ounce of cream cheese.
Into the bowl of a stand mixer (or use electric hand mixer) add the mascarpone cheese and cream cheese, beat using paddle attachment until smooth.
Add vanilla extract and powdered sugar, beat till smooth.
Now, change to the whisk attachment and add the cold heavy whipping cream to the beaten mascarpone and cream cheese.
Make sure the heavy whipping cream is cold.
Whip the heavy cream till stiff peaks are formed.
Assembling the cakes and frosting
If you have made 2 cakes, cut them into halves horizontally and you will have 4 cake layers.
If you only made 1 large cake, half it horizontally and you will have 2 cake layers.
Place one of the cake layers on a platter.
Spread the top of the cake layer with a layer of frosting.
Place the other cake layer over the frosting. (if there are 4 layers, stack the layers and frost the layers)
Finally, spread the top and sides of the cake layers, clean the frosting using an angled spatula.
Decorate the cake the way you want. I pipped store bought red icing using flower tips on the top the cake. Sprinkled red glitters all over the frosted cake.
Refrigerate the cake for 2 to 3 hours or overnight- the cake will be set well when refrigerated.
While serving, cut into wedges using a sharp knife.
Leftover cakes can be refrigerated for a couple of days.
Leftover frosting can be refrigerated, spread the frosting over bread or crepes and serve for breakfast.
Notes
Use liquid red food color.
Instead of mascarpone cheese, you could use cream cheese.
Heavy whipping cream must be cold.