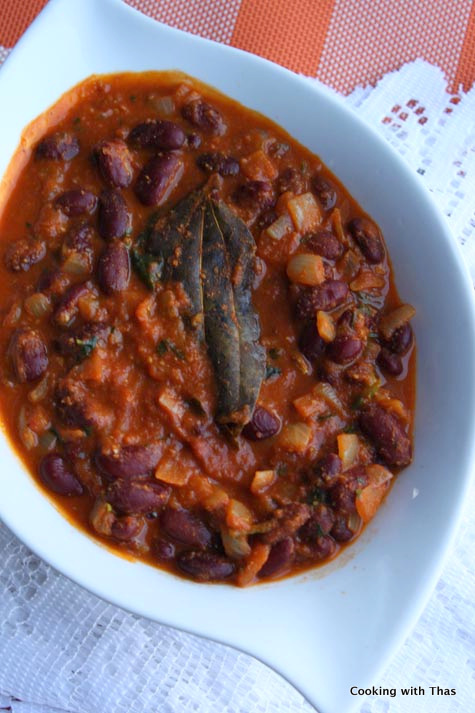 A popular North Indian vegetarian delicacy…
Long weekend seemed very short, holidays are never enough as a matter of fact. On Monday evening, I sipped iced cappuccino so tastily  and the caffeine in it screwed up my good night sleep. I am so sensitive to caffeine, if I have coffee or tea after 2 pm I wouldn't be able to sleep as my brain will be working so hard. Hence, I felt so high and hung over on Tuesday, I was glad when Tuesday came to an end. I did sleep well last night, better I say I over slept so awesomely as my phone alarm failed to blare. I still can't figure it out what went wrong as my phone was in full charge, it wasn't turned off nor the alarm, scratching my head! Anyway, I feel much better today as I woke up naturally this morning without being bothered by alarms and other sounds. I worked so awesomely today and felt so fresh throughout the day. How I wish if I could accumulate sleep in my body and use it when it's desperately needed. It doesn't matter if we sleep sound three nights in a row, if we miss sleep the 4th night we would feel horrible till we get that sleep back. At times, sleep does rule our minds.
Last Monday, we went vegetarian; as part of that I'd tried a few veggie dishes. Rajma is a very popular vegetarian curry or gravy based dish in North India. The main ingredient in it is red kidney beans. A dish highly rich in protein and fibers. Traditional cooking of rajma calls for soaking up dried red kidney beans over night and cooking in the pressure cooker or in a dutch oven till the beans turn tender. Since, canned red kidney beans are widely available, I used the canned ones. This is a very flavorful veggie curry that goes well with chapati, appam, naan, roti or rice.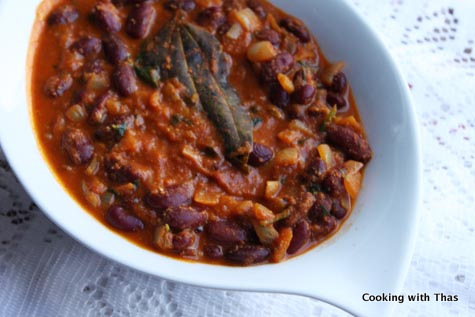 Step by Step pictures:
Red kidney beans combined with spices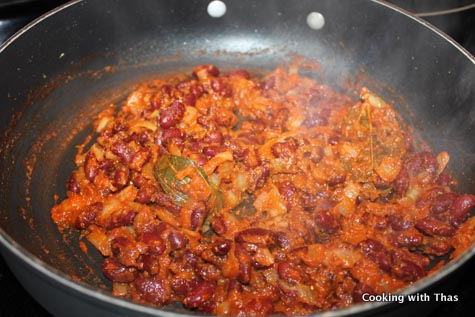 Cooked Rajma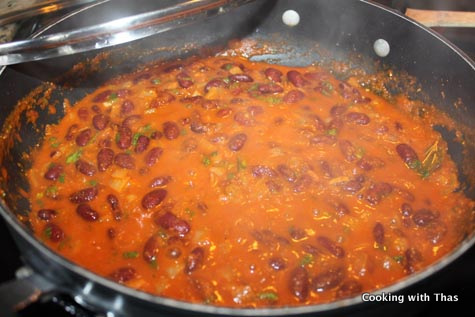 Rajma or Red Kidney Beans Curry
Ingredients
Oil- 1 tbsp
Bay leaves- 2
Cumin seed- 1 tsp
Onion chopped- 1, large
Ginger-Garlic paste- 1 tbsp
Tomato sauce- 1 cup
Red kidney beans, canned- 1 large can ( drain the liquid and rinse under running water)
Turmeric powder- ⅛ tsp
Cumin powder- 1 tsp
Coriander powder- 2 tsp
Fennel powder- 1 tsp
Garam Masala- ½ tsp
Kashmiri red chili powder- 1 tsp ( use regular chili powder if you want this curry to be spicy)
Salt -to taste
Water- 1 cup
Cilantro, chopped- 2 handful
Instructions
I used canned red kidney beans, if you prefer you could soak the dried red kidney beans in water overnight and cook in a pressure cooker or a dutch oven till the beans turn tender.
If using canned red kidney beans, drain the liquid and rinse it under running water. Keep aside.
Place a large saucepan over medium heat, add oil. Let it turn hot.
Add bay leaves and cumin seeds in the oil, saute for a few seconds.
Add onion, and a few pinches of salt, saute till onion turns translucent.
Add ginger-garlic paste, saute for a few minutes.
Add tomato sauce, cook for a few minutes.
Add cooked red kidney beans, combine well.
Add turmeric powder, cumin powder, coriander powder, fennel powder, garam masala and Kashmiri red chili powder, combine well and cook for a couple of minutes.
Add water, salt to taste and cook covered for 3 to 5 minutes.
Add cilantro and cook for a minute.
Remove the pan from the heat and keep it covered for sometime.
Serve with chapati, roti, naan, Appam or rice
To see all the 888 recipes published so far, please go to the recipe index.
If you enjoyed this post, subscribe to receive future posts


You can also subscribe via Facebook, Twitter and RSS