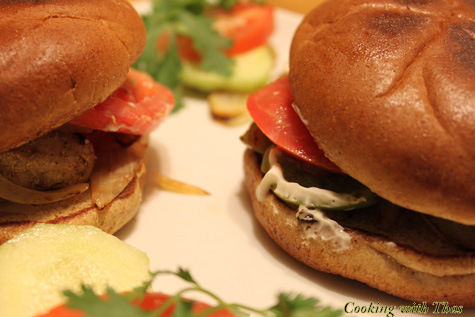 Who wouldn't crave for chicken burger at least once in a while?  I always rush to a nearby restaurant whenever I get the craving. But now,  I have  a really delicious way of making the chicken for the burger. I love my chicken grilled, rather than fried. So I  grilled the chicken on a skillet for this burger. Marinated with cumin powder, gave a smoky flavor to it. While grilling,  I added pepper powder and lime juice, which made it spicy and tangy. And the best part is its 100% homemade.
For marination:
Chicken boneless( breast)- 4 fillets
Ginger-garlic paste-2tsp
Cumin powder-3 tsp
Vinegar-2tsp
Salt- as required
Marinate the chicken fillet with the above ingredients and let it stand for 15 mts.
For grilling:
Butter(unsalted)-2tsp
Pepper powder-4tsp
Lime juice- 3tbsp
Preparation:
Heat a skillet and add the butter.
When the butter melts, sprinkle 2 tsp of pepper powder on to the skillet
Now place the fillets over the pepper powder.
Pour 3 tbsp of lime juice over the fillet.
Sprinkle 2 tsp of pepper powder over the fillet
Cover it with a lid and let it cook in low flame until all the water evaporates and the chicken is well done. Once the chicken is cooked through, open the lid and let the chicken brown on both sides.
To build your burger:
Burger buns toasted -1
Pepper Chicken fillet-1
Tomatoes- sliced round- 1
Onions caramelized in butter, sliced round-1 ( optional)
Pickled cucumber/Dill spears-1
Mayonnaise- spread on the bun
Swiss cheese slice-1
Place all the above stuffs in between the burger buns. Now open your mouth as wide as possible and have the biggest bite of this Chicken burger. Voila, here is your homemade burger!
So now you don't have to rush to a restaurant for chicken burger, you could make it in your own kitchen. You could also build this burger with your favorite veggies and cheese.
To see all the 600 recipes published so far, please go to the recipe index.
If you enjoyed this post, subscribe to receive future posts


You can also subscribe via Facebook, Twitter and RSS