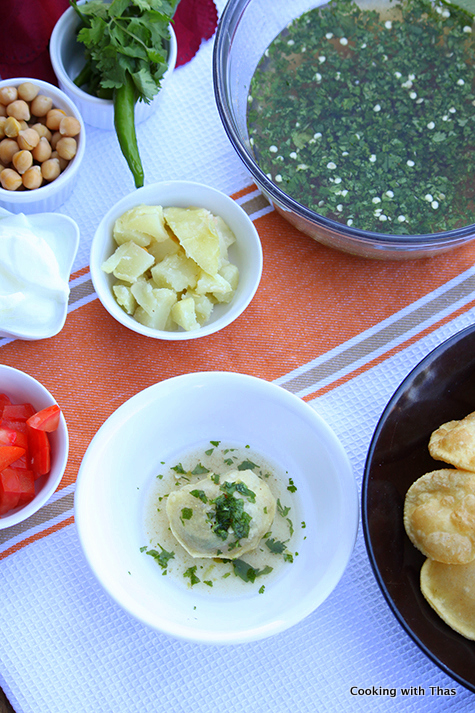 Panipuri, a popular street food in North India gobbled up by all with so much greed…
Panipuris are also called Golgappas and are quite popular in North India, these are sold by street vendors and you will see a huge line up before the food carts. While growing up in Kerala, I didn't get a chance to taste panipuri as it's not popular over there. I got to taste panipuri when I visited Chennai 5 years ago.
The puris or crispy puffed up dough balls are stuffed with chick peas, potatoes and tomatoes, they are then dipped in a tangy and spicy water or pani and are then popped into the mouth and enjoyed. The crispy dough balls, the tangy spicy water and the stuffings will make your tastebuds dance with joy and you will be seen enjoying panipuris non-stop.
The kind of fillings used to stuff the puris vary from region to region. The pani or water is made tangy, spicy and slightly sweet. I love the addition of mint, cilantro and green chilies to the tangy water. Honestly, I drink the water just as it is, it's refreshing and tastes really good.
I had the joy of picking mint leaves from my veggie garden. This Summer, I planted mint on my veggie bed and they have been growing fantastically. I love the aroma and the flavor of mint.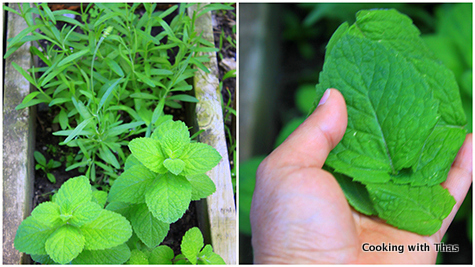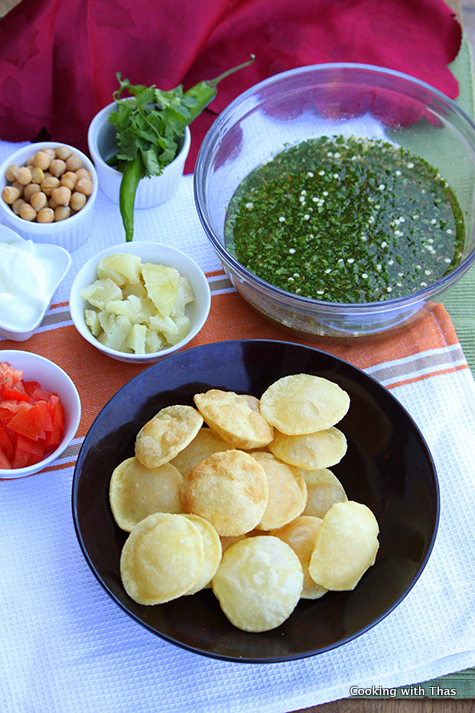 Preparation Pictures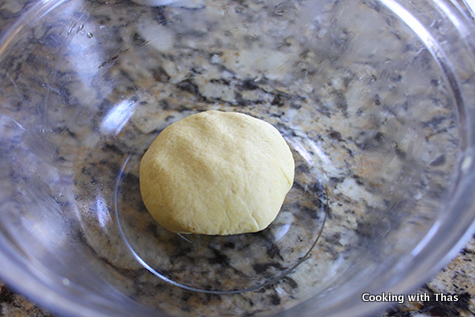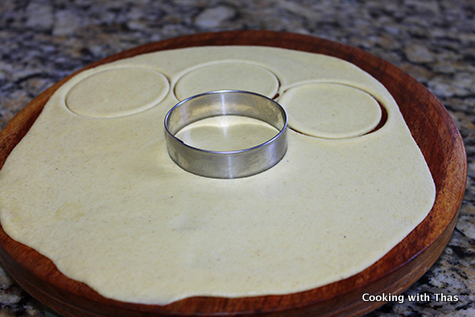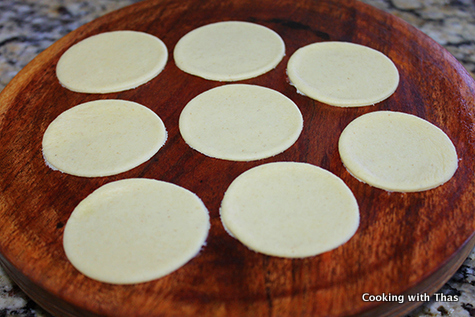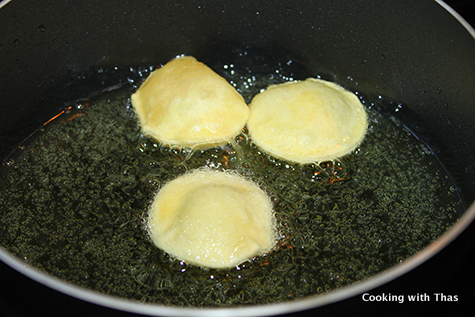 Panipuri or Golgappa Recipe- Popular Indian Street Food
Ingredients
For making Puri or Crispy Puffed Dough Balls
Fine Semolina or Sooji or Rava - 1 cup
All purpose flour or Maida- 1 tbsp
Baking soda- ¼ tsp
Salt- a few pinches
Water- 5 to 6 tbsp
Oil- 1 tsp
For making Pani or Tangy-Spicy water
Cilantro, chopped- 2 handful
Mint leaves- 7 leaves
Green chilies- 1 or 2
Water- 1¼ cups
Tamarind juice- 3 inch slice soaked in ½ cup lukewarm water
Coriander powder- ½ tsp
Ground cumin- ½ tsp
Chili powder- ¼ tsp (if you want to be spicy)
Ground black pepper- ⅛ tsp
Sugar- ½ tsp
Salt- to taste
For Stuffing
Cooked chick peas
Cooked potatoes, chopped small
Chopped tomatoes
Chopped red onions
Yogurt, optional
Other ingredients
Oil- for deep frying the puris
Instructions
In a large bowl, combine together the fine semolina, oil, baking soda, flour and salt.
Slowly add water and knead well. The dough should not be too soft nor too hard, it should have a medium constituency. The dough must be kneaded really well for about 5 minutes.
Cover the dough with a damp kitchen towel and let rest for 20 minutes.
After 20 minutes, knead the dough again.
Divide the dough into 3 or 4 medium sized balls.
Grease a clean surface or board with cooking spray, place one of the dough balls and roll it using a rolling pin to a thin round shape. The dough has to be rolled very thin.
Make small round shapes on the rolled dough using a small round cookie cutter.
Place a frying pan over medium heat, add enough oil for deep frying.
When the oil turns medium hot, drop the small round dough into the oil. They will instantly puff up, flip to the other side and fry for a couple of minutes till they turn golden in color.
Using a slotted spoon remove the puffed up puris from the oil and place over kitchen paper towels.
You will have some puris that's not puffed up.
After they have cooled down, store the puris in an air tight container so that they stay crispy.
Making the pani or water
In a food processor or blender, grind the cilantro, mint and green chilies together to a coarse or smooth paste.
Soak the fresh tamarind in ½ cup lukewarm water for 5 minutes. Combine the soaked tamarind into the water, strain the tamarind juice and discard the tamarind skin.
In a large bowl, add water, tamarind juice, ground cilantro/mint/green chilies.
Add coriander powder, ground cumin, chili powder, ground pepper, sugar and salt. Combine well.
Serving
While serving, have all the stuffings and water ready
Make a small hole in the puri or puffed up dough ball.
Fill the hole with a few chick peas, chopped potatoes, tomatoes, onions, yogurt etc.
Dip the stuffed puris in the prepared tangy, spicy water so that the water enters the puri. Or you could pour the water over the stuffed puris taken in a small bowl.
Pop it in your mouth and let your taste buds enjoy all the flavors.