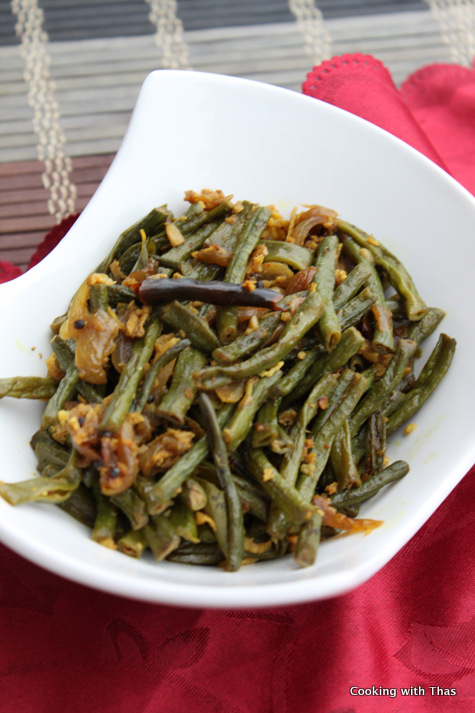 An easy to make veggie stir fry, South Indian side dish…
One of the side dishes that's commonly served with South Indian lunch is a vegetarian stir fry in which any kind of veggies can be added. It can be either thoran or mezhukkupuratti. Only one kind of veggie is added or a combination of veggies are added. Thoran and mezhukkupuratti belong to the same category with slight variations. Usually, while making thoran grated coconut which is ground along with some seasonings is added to the veggies. While in mezhukkupuratti grated coconut is directly added to the veggies and is stir fried.
Veggies like carrot, beans, beet root, cauliflower, cabbage can be used for making mezhukkupuratti. However, I like long beans mezhukkupuratti better than any other veggies. So, whenever I buy long beans, I make this stir fry. This goes well as a side dish along with rice or chapati.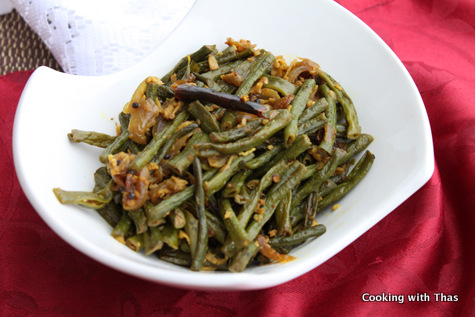 Preparation pictures
Making long beans stir fry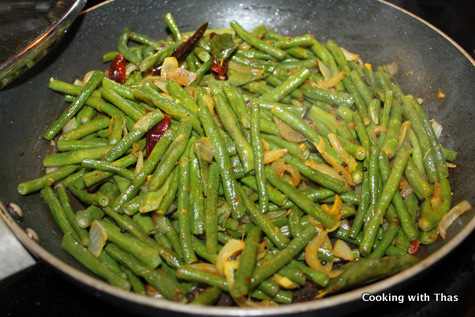 Long beans stir fry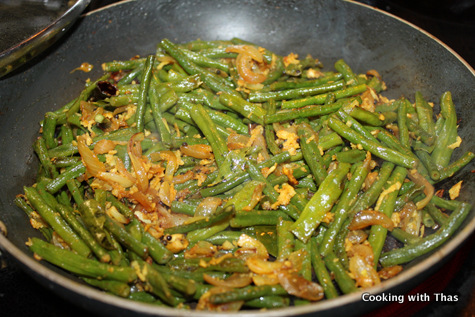 Long Beans Stir Fry or Payar Mezhukkupuratti
Prep time:
Cook time:
Total time:
Ingredients
Long beans, cut into 2 inch- 10 to 15 beans
Coconut oil- 2 tbsp + ½ tbsp
Mustard seeds- 1½ tsp
Whole red dry chilies- 2
Curry leaves- 1 sprig
Shallots or small onions, chopped- 6
Turmeric powder- ¼ tsp
Chili powder- ¾ tsp
Coconut grated- ½ cup
Salt- to taste
Instructions
Cut the long beans to 2 inch long.
Heat a wok or frying pan, add oil, let it turn hot.
Add mustard seeds, let it splutter.
Add whole red dry chilies and curry leaves, saute for a few seconds.
Add chopped shallots and a few pinches of salt, stir fry till light golden in color.
Add turmeric powder and chili powder, saute for a minute.
Add cut long beans, combine well.
Sprinkle some salt over the beans, combine well.
Add a few tablespoons of water and cook covered till beans turn tender.
Add coconut, stir fry for a few minutes till coconut turns golden in color.
If the mixture is getting too dry sprinkle some water and stir fry.
At the end drizzle ½ tbsp of coconut oil and stir fry for a couple of minutes.
Remove from the heat and serve with rice or chapati.
Notes
Adding coconut oil enhances the taste of this stir fry.