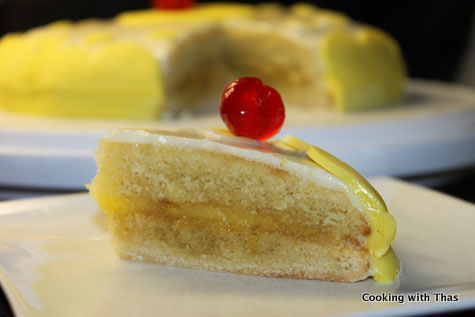 Lemony goodness…
Hope everyone had a lovely Valentine's day!
A genuine smile filled with lots of ♥, a warm hug filled with lots of ♥, sweet talks filled with lots of ♥, these gestures never fail to make someone happy and feel loved. Let's express these simple gestures of love to everyone on everyday and not just on Valentine's day. This time I ignored the gifts that's sold at the stores, instead I gave my man the best gift which said: "made from my heart". I baked this lemon cake for my valentine and it sure did put a sweet smile on his face.
I had made this cake a few years ago for my hubby's birthday, we really loved it. I'd been thinking of making this cake for so long and it finally happened on this Valentine's day. It's a lemony flavored cake, very refreshing and on the sweeter side. It has a lemon filling and the frosting has lemon flavor as well. I don't have a sweet tooth so I found the lemon filling to be a bit sweeter for me, my man has a huge sweet tooth so he enjoyed it like anything. I had some leftover yellow fondant, so I used that to decorate the cake.
A simple lemon cake got a fancy makeover!
Recipe Courtesy: All recipes.com

Step by step Pictures
To see all the 888 recipes published so far, please go to the recipe index.
If you enjoyed this post, subscribe to receive future posts


You can also subscribe via Facebook, Twitter and RSS