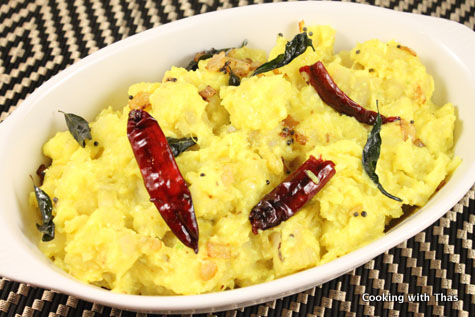 Fish curry and Tapioca, without any doubt a true delicacy of Kerala cuisine…
Since my last post was kerala style fish curry, this post gotta be Kappa Puzhukku or Tapioca in ground coconut. For the first time, I wasn't perplexed about what to post next.
One of the authentic Kerala dishes has been Kappa and Meen curry (Tapioca or yuca root and fish curry), devoured by all hard core non- veggies with high enthusiasm. Though nowadays you could come across tapioca being served along with beef or chicken, tapioca with fish curry is the most delicious and the most commonly served combination. Tapioca has been a staple food for many people in Kerala, it is cheap and is available all year round. I was so delighted when I found that I can buy fresh tapiocas from the Asian supermarket which is very close to my house.
How to save yourself from buying spoiled tapiocas, here is a little trick that I do:
While buying tapiocas you have to be little very careful, you don't want to be disappointed when you find out that you carried the spoiled ones all the way home. In North America, the skin of tapiocas would be waxed before they are kept for sale. The waxy and shiny look on the tapiocas are quite deceiving. Even if the inside of the tapioca is spoiled we cannot find it. I freaked out a few times when I found that the tapiocas I had bought were rotten inside. I didn't want to happen this again, hence I found a trick to save myself from further disappointment and of course from wasting my money. What I usually do is to scratch the end of the tapioca a little bit and smell it, if the inside looks white and if it smells good, you can get that without any hesitation. But if the inside looks yellowish with grey streaks and smells slightly rotten, then go ahead and discrad them.
Fresh and good tapiocas cook fast while spoiled ones take a long time to become tender.
I have already posted the recipe for Tapioca Stir fry and Tapioca Fish biryani, so here is the recipe for Kappa Puzhukku or Tapioca in ground coconut.
Kappa Puzhukku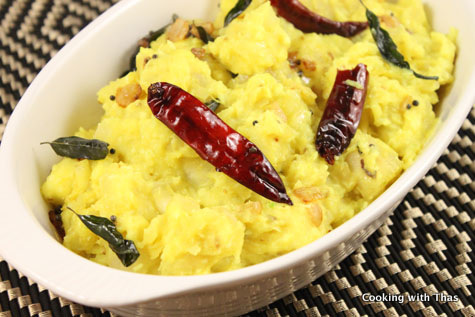 Ingredients
Tapioca, cubed- 2
Water- to cook tapioca
Salt- little
To grind:
Coconut, grated- 1 cup
Cumin seeds- 1 tsp
Garlic, chopped- 2 cloves
Green chili- 1 or 2
Turmeric powder- 1/4 to 1/2 tsp
Salt- to taste
Water- enough to grind into a coarse paste
For tempering:
Coconut oil or vegetable oil- 2 tbsp
Mustard seeds- 1 tsp
Small onions, chopped small- 3
Red dry whole chili- 3
Curry leaves- 1 sprig
Instruction
Peel off the skin from the tapiocas, cut into cubes, wash under running water.
Boil the tapiocas along with water and little salt until it turns tender and well cooked.
Drain the water and keep aside.
In a blender, grind the above mentioned "to grind ingredients" to a coarse paste.
In a large saucepan, add the cooked tapiocas and the ground paste.
Cook for about 5-10 minutes, until the gravy starts to thicken and is combined well.
If you want you could slightly mash the tapiocas using a wooden spoon.
Remove from the heat and keep aside covered.
Heat a small pan over medium heat, add oil.
When the oil gets hot, add mustard seeds and let it splutter.
Add the chopped small onions and saute for a few minutes.
Add dry red chilies and curry leaves, saute till onions have turned brown.
Pour this tempering onto the cooked tapioca.
Keep the tapioca covered for sometime so that the flavors from the tempering will get into the dish.
Serve warm along with your favorite fish curry.
Kappa Puzhukku or Tapioca in ground coconut - South Indian Style
Ingredients
Tapioca, cubed- 2
Water- to cook tapioca
Salt- little
To grind
Coconut, grated- 1 cup
Cumin seeds- 1 tsp
Garlic, chopped- 2 cloves
Green chili- 1 or 2
Turmeric powder- ¼ to ½ tsp
Salt- to taste
Water- enough to grind into a coarse paste
For tempering
Coconut oil or vegetable oil- 2 tbsp
Mustard seeds- 1 tsp
Small onions, chopped small- 3
Red dry whole chili- 3
Curry leaves- 1 sprig
Instructions
Peel off the skin from the tapiocas, cut into cubes, wash under running water.
Boil the tapiocas along with water and little salt until it turns tender and well cooked.
Drain the water and keep aside.
In a blender, grind the above mentioned "to grind ingredients" to a coarse paste.
In a large saucepan, add the cooked tapiocas and the ground paste.
Cook for about 5-10 minutes, until the gravy starts to thicken and is combined well.
If you want you could slightly mash the tapiocas using a wooden spoon.
Remove from the heat and keep aside covered.
Heat a small pan over medium heat, add oil.
When the oil gets hot, add mustard seeds and let it splutter.
Add the chopped small onions and saute for a few minutes.
Add dry red chilies and curry leaves, saute till onions have turned brown.
Pour this tempering onto the cooked tapioca.
Keep the tapioca covered for sometime so that the flavors from the tempering will get into the dish.
Serve warm along with your favorite fish curry