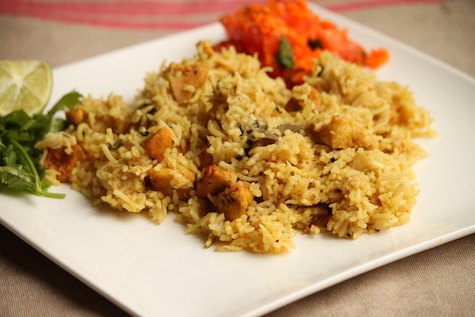 In just 15 minutes, you will be devouring this delicious chicken pilaf or pulao made in the Instant Pot…
Cooking video
Instant Pot Express Chicken Pilaf or Pulao
Prep time:
Cook time:
Total time:
Ingredients
For marinating Chicken
Chicken breasts, cubed- 2
Chili powder- 1 tsp
Turmeric powder- ¼ tsp
Coriander powder- 2 tsp
Fennel powder- 1 tsp
Garam Masala- ½ tsp
Salt- 1 tsp
For making Pilaf
Oil or Ghee- 2 tbsp
Dried bay leaves- 3
Onion, sliced thin- 2
Salt- ½ tsp
Garlic, grated- 2
Ginger, grated- 1 inch slice
Green Chili, chopped- 1
Basmati rice, soaked and rinsed- 1½ cups
Garam Masala- ½ tsp
Salt- ¼ tsp
Water- 1¾ cups
Cilantro, chopped- ¼ cup
Mint leaves, chopped- 8 leaves
Saffron- 2 pinches soaked in 1 tsp water
Instructions
In a bowl, combine all ingredients mentioned 'for marinating chicken' and let marinate for 15 minutes.
Soak basmati rice in water for 5 to 10 minutes.
Turn on IP. Sauté Mode, Normal Temperature.
Let display turn hot.
Add oil, dried bay leaves.
Add onions, season with ½ tsp salt. Sauté for 2 minutes.
Add grated garlic, ginger and green chili. Saute till onions turn light golden.
Add marinated chicken. Combine well.
Add basmati rice.
Add garam Masala and ¼ tsp salt. Combine well.
Add 1¾ cups water.
Add cilantro and mint leaves.
Close the pot with its lid.
Select pressure cook mode. High pressure, set time to 6 minutes.
After 6 mins cooking, do a quick pressure release.
Add saffron water.
Fluff the pilaf with a fork.
Remove the stainless steel pot from the main pot, cover with a lid and let stand for a few mins.
Serve on a plate along with easy salad or raita and enjoy.