Baingan Bharta or stuffed eggplants made in the Instant Pot…
Baingan Bharta is a popular vegetarian dish in India, eggplants or brinjals are stuffed with onion-coconut mixture and cooked in the coconut-onion gravy.
In the Instant Pot, cooking time will be reduced, 3 minutes of pressure cooking with QPR this dish will be ready-couldn't get any easier.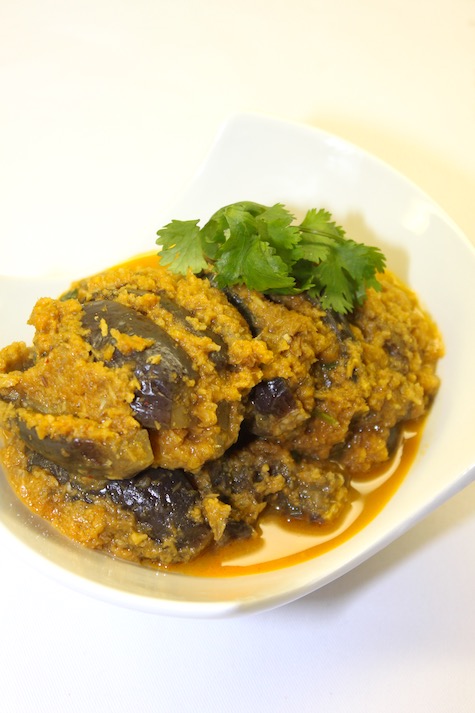 Cooking Video
Instant Pot Easy Baingan Bharta -Instant Pot Stuffed Eggplants
Prep time:
Cook time:
Total time:
Ingredients
Baby eggplants or Brinjal, whole- 10
To cook and make paste
Oil- 1 tbsp
Cumin seeds- ½ tsp
Fennel seeds- ½ tsp
Onion, chopped- 2
Salt- ½ tsp
Garlic, chopped- 1 large clove
Ginger, chopped- 1 inch slice
Green chilies, chopped- 2
Grated coconut- 1 cup
Jaggery or palm sugar- 1 tbsp
Coriander powder- 2 tsp
Turmeric powder- ¼ tsp
Kashmiri Chili powder- 1½ tsp
Fresh tamarind juice- 2 inch slice soaked in 3 tbsp water
Water- ½ cup
Other ingredients
Oil- 1 tbsp
Water- ½ cup to thin down gravy
Salt- to taste
Cilantro, chopped- 2 handfuls
Instructions
Soak 2 inch fresh tamarind in 3 tbsp slightly warm water, squeeze the tamarind and extract the juice. Drain the juice and discard the skin.
Turn on Sauté Mode in Instant Pot- Medium temperature. Let turn hot.
Add 1 tbsp oil, followed by cumin seeds and fennel seeds, saute for 30 seconds.
Add onion, season with salt.
Add chopped garlic, ginger and green chilies, saute till onion turn translucent.
Turn off Saute mode, remove the stainless pot from the main pot.
Into a blender, add grated coconut, jaggery, coriander powder, turmeric powder, Kashmiri Chili powder, fresh tamarind juice and the cooked onion.
Add ½ water and grind to a smooth thick paste.
Wash the eggplants under running water and pat dry it.
Using a sharp knife, carefully cut the eggplant vertically from the side opposite to the stem until you are about ¼ inch from the stem.
Make a cut on the other side too, so that there are 4 slits on the eggplant.
Be careful not to cut the stem, so that the eggplant will stay in place without falling apart.
Gently, stuff the coconut-onion paste into the slit made on the eggplants.
While, stuffing open the slits gently with fingers so that the stuffing goes inside and remains intact.
Don't open it too wide as it might break apart.
After stuffing the eggplants, save the remaining coconut-onion paste.
Turn on the Saute Mode.
Add 1 tbsp oil.
Place the stuffed eggplant on the pot.
Pour the remaining coconut-onion paste over the stuffed eggplants.
Rinse the blender with ½ cup water and add that to the pot.
Add ½ to ¾ tsp salt.
Combine well and cook for 2 minutes.
Cancel Saute Mode.
Close the pot with its lid.
Select Pressure cook mode, high pressure and set the time to 3 minutes.
After 3 minutes pressure cooking, do a quick pressure release.
Open the lid.
Combine well and add chopped cilantro, cook for a minute.
Turn off the IP, take out the stainless steel pot from the main pot and keep covered for sometime.
This can be served with chapati, rice, roti etc.