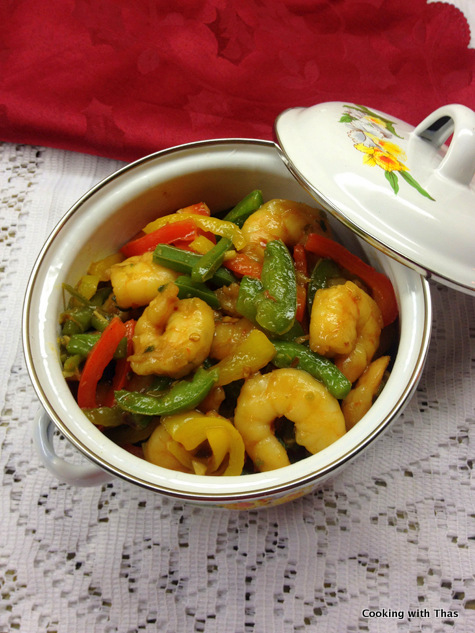 Succulent shrimp in honey and soya sauce along with colorful peppers…
I like to make my dishes colorful, one of the ways is by adding peppers of different colors. Peppers impart so much color and flavor to whatever dish you are making. The other day, I stir fried the shrimp in soy sauce and honey, to that added the stir fried peppers. It was one easy dish to make and tasted so delicious.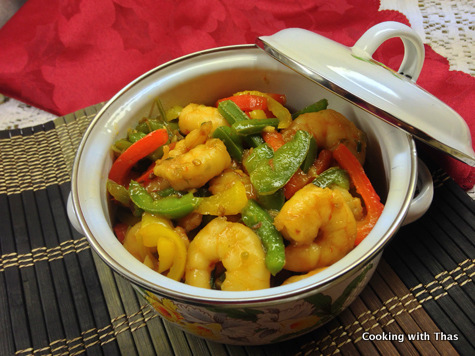 Preparation pictures
Cooking shrimp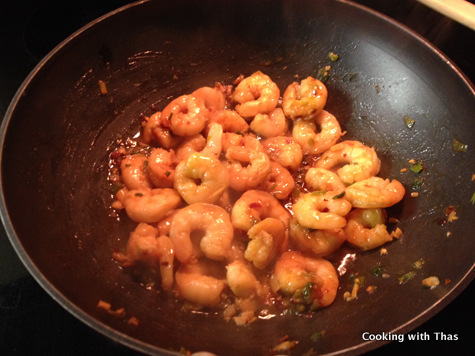 Stir frying peppers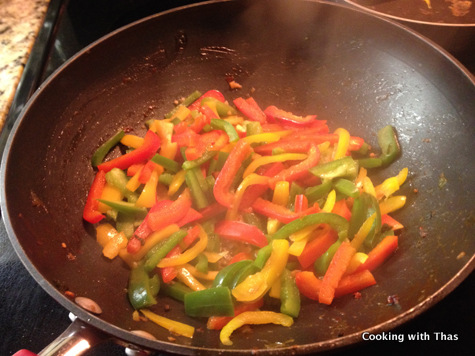 Combining shrimp and peppers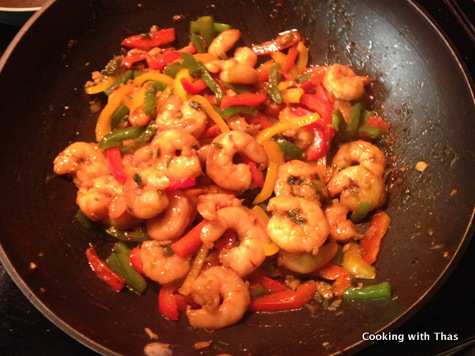 Honey Shrimp with Peppers
Prep time:
Cook time:
Total time:
Ingredients
Vegetable oil- 2 tbsp
Ginger, grated- ½ tbsp
Garlic, grated- 2 large cloves
Green onions, chopped- 2 stalks
Red chili flakes- 1 tsp
Shrimp, deveined and shelled- 20, large
Soy sauce, low-sodium- 2 tbsp
Hoisin sauce- 1 tbsp
Rice vinegar- 1 tbsp
Honey- ½ tbsp
Red pepper, cut into thin wedges- 1, small
Green pepper, cut into thin wedges- 1, small
Yellow or orange pepper, cut into thin wedges- 1, small
Ground pepper- ¼ tsp (if you need more spice)
Instructions
Place a wok over medium heat. Add oil.
Add grated ginger and garlic, saute till golden.
Add chili flakes, saute for a few seconds.
Add green onions, saute for a couple of minutes.
Add shrimp, saute for a minute.
Add soy sauce, hoisin sauce and rice vinegar, stir fry till shrimp has cooked.
Add honey and stir fry for a minute.
Transfer the cooked shrimp to a bowl, keep aside.
To the same wok, add the peppers cut into thin wedges, stir fry for a few minutes till the peppers turn slightly tender; don't over cook, it should remain crisp.
Add the cooked shrimp to the peppers, stir fry for a minute.
Add ground pepper if you need more spice.
Transfer to a bowl and serve along with rice or combine with noodles.