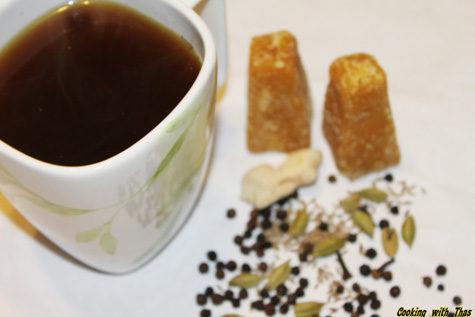 This herbal coffee is a great remedy for cold, headaches, sinus etc, will instantly open up your senses and makes you feel better….
If I have a cup of this homemade herbal coffee, I would shy away from any other branded coffee in the market. I have been feeling dizzy and inactive for the last couple of days, only one thing that is keeping me up and running is this homemade herbal coffee.
As soon as I take a sip of this, I feel my dead senses are charged and back to life. I must say I had forgotten about this coffee for so many years, and now I feel as if  I found my long lost companion.
My mom and my grandma used to make this all the time. Whenever I fell sick, my mom made sure to brew this and a single cup of this coffee had done instant wonders to me, all of a sudden I would feel uplifted.  When I was looking for a way to get rid of my headache, my eyes caught on the box of jaggery in the pantry ( you would be wondering why am I looking in the pantry for headache remedy:  I always look for natural remedies before I even think of taking any medicine and most of the time it works for me) I was reminded of this long lost companion. What a perfect timing! I got what I needed and without even wasting a single second, I started brewing this coffee.
I took out almost all the spices from my pantry: cardamom, cloves, dry ginger, whole pepper seeds, along with cumin seeds, coriander seeds. As soon as the  spice rich water started to boil, I put a few leaves of basil into it. I can't really put into words, the aroma that developed while brewing this coffee. It penetrated into me and the soreness I was feeling on my head literally vanished. I sat on the couch and with each sipping I cherished those times I had with this coffee.
Today, I brewed this coffee again and thought of sharing this aromatic homemade herbal coffee with everyone. You can have this coffee any day, especially on days you are feeling low.
On a rainy cold day, this coffee would make a great companion…
Cooking Video: How to make Homemade Herbal Coffee
Homemade Herbal Coffee or Chukku Kaapi
Ingredients
Water-2 cups
Jaggery or palm sugar- 2 to 3 inch slice or depending upon your sweet level.
Whole Cardamom, smashed with the back of the spoon- 2
Whole cloves- 2
Dried Ginger- 1 inch slice or use 1½ tsp ground dried ginger
Whole black pepper or Ground Pepper- ½ tsp
Cumin seeds, smashed or ground cumin- ½ tsp
Coriander seeds, smashed (optional)-1/2 tsp
Fresh Basil or Tulsi leaves- 7 to 8 leaves
Instant coffee- 1½ tsp
Instructions
In to a saucepan, add all the ingredients into the water except coffee, cover the pan and let water come to a boil. Let the jaggery dissolve completely in water.
When the water starts to boil, add the instant coffee powder and give it a good stir, remove the pan from the heat, cover the pan with the lid for 5 minutes.
Strain the coffee into a coffee mug and have it while it is pipping hot.
The hotness from the ground pepper, the aroma from the basil leaves and the other spices, the sweetness from the jaggery will charge you up instantly.
After you finish this coffee your senses will open up and you will start to sweat.
This is a great homemade remedy for cold, headaches, sinus etc.
Notes
You could adjust the spice and sweet level based on your preference.