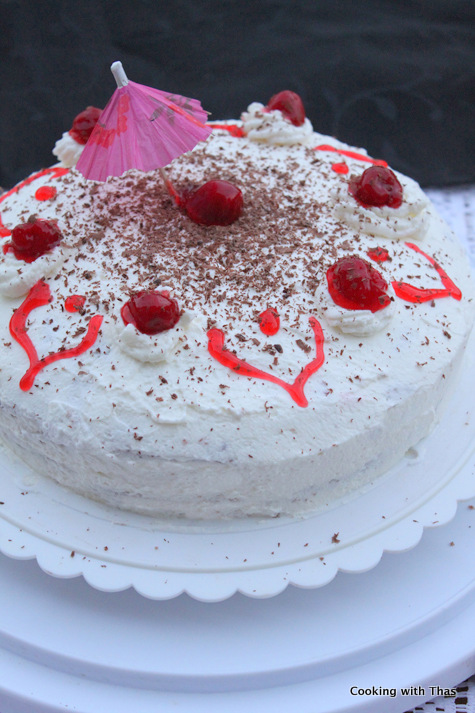 Genoise, an Italian sponge cake; incredibly soft and airy that will melt into your mouth…
Starting the week after a long weekend is pretty pretty worse, my poor brain couldn't figure out what was going on while I was at work on Tuesday. Today, I am back on schedule and in the evening the baker in me woke up after a brief slumber. I had promised my co-workers that I would bake a cake for Thanksgiving and would share with them. I was procrastinating over the long weekend, hence baking a cake was absolutely not in my mind. I wanted to keep my promise so today I just rushed into the kitchen after I reached home.
Making a black forest cake was in my mind. While looking for recipe ideas for making a soft and airy cake I came across genoise cake (pronounced as geenwaz). It's an Italian sponge cake and it perfectly matched all my criteria. This cake is made with very basic ingredients. All you have to do is whip the eggs till fluffy and fold the flour to the whipped eggs. You don't even have to add milk to it. Whipped eggs make this cake spongy, airy and unbelievably soft.
I used cherry filling and covered the cake with whipped cream, sprinkled shaved chocolates over the cake. This cake is so light that it just melts before you even chew it.
You could even bake this cake batter in a baking sheet and can be rolled into swiss rolls, jelly rolls etc.
Recipe Source: Martha Stewart website
Preparation Pictures
Whipped eggs and sugar (it should turn fluffy)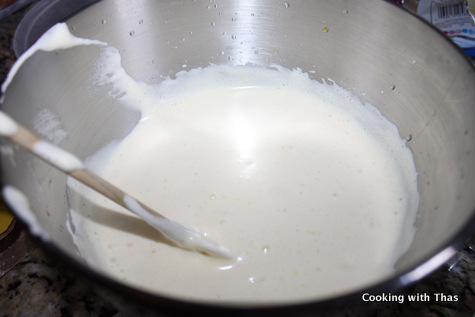 After adding flour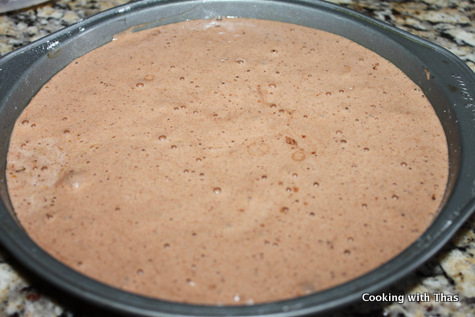 Baked cake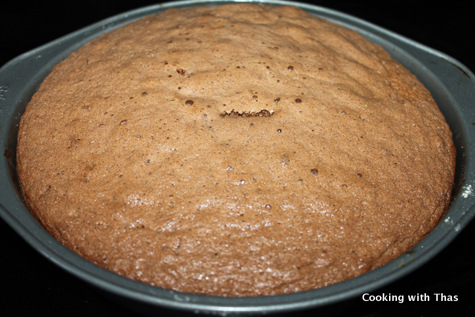 Halved cake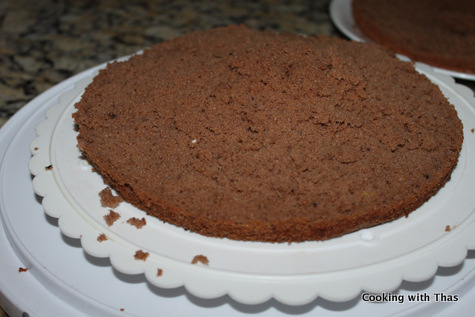 Topped with Cherry filling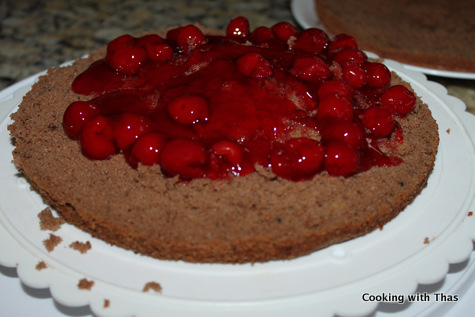 Spread with whipped cream over the cherry filling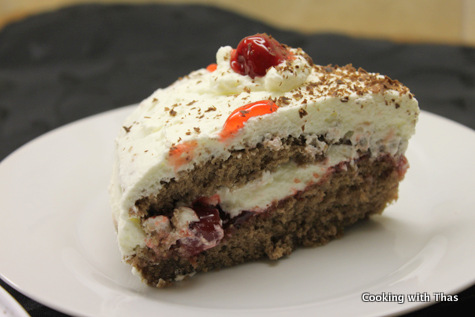 Genoise Cake- with Cherry filling and Whipped Cream
Prep time:
Cook time:
Total time:
Ingredients
For making cake batter, 9-inch cake
Eggs, large- 3
Egg Yolks- from 2 large eggs
Granulated sugar- ½ cup
Cake flour, sifted- ⅔ cup
Cocoa powder, sifted- ⅙ cup (add only if you are making chocolate cake)
Butter, melted- ¼ cup
Salt- a pinch
Other ingredients
Cherry filling, store-bought- ½ can ( used for filling pies) Or use strawberry filling
Heavy Whipping cream- 2½ cups
Confectioners sugar- ¼ cup
Shaved semi-sweet chocolate- to garnish
For making Strawberry Filling
Fresh Strawberries, halved- 2 cups
Sugar – 2 tbsp
Instructions
Making the cake
I made chocolate cake, so I added cocoa powder along with the flour. For making white cake, ignore cocoa powder.
Preheat oven to 400 F.
Line a 9 inch cake pan with parchment paper (must do), spray with cooking spray, dust with a few pinches of flour, keep aside.
If using electric stand mixer: crack the eggs and egg yolks into the stand mixer bowl, add the granulated sugar.
Add some water to a large pan, heat the water and let it come to a slight boil.
Place the bowl with the eggs and sugar over the simmering water (double boiling method) and whisk the eggs, let the sugar dissolve. Let the mixture turn slightly warm, do not cook the eggs.
Remove the bowl from the water, wipe the water off and place it on the stand mixer with whisk attachment.
Beat the egg mixture to high speed till it turns fluffy, thick and white in color, about 4 minutes. Or use electric hand mixer to beat the eggs.
Sift the flour, cocoa powder and salt together into a bowl. Avoid any lumps.
Remove the bowl with whipped eggs from the stand mixer.
Add the flour/cocoa powder/salt mix to the whipped eggs.
Gently fold the flour into the eggs until well incorporated.
Add the melted butter, fold it into the batter and combine well.
Pour the batter into the prepared cake pan. Do not fill the cake pan to its brim, pour only to ¾th of the pan.
Place it on the lower rack and bake for 15 minutes or till a fork inserted into the center of the cake comes out clean.
Remove from the oven, let the cake cool down completely.
Making whipped cream
Combine whipping cream and sugar in a stand mixer bowl, beat it at high speed till soft peaks are formed. You could even use electric hand mixer.
Assembling the cake
Since I only made one cake, to layer I cut the cake into halves. As the cake is very soft and spongy it's a little tricky to cut into halves. Be very gentle and careful else the cake will fall apart.
Or you could bake 2 cakes and then layer with cherry filling and whipped cream.
On the first cake layer, spread few tablespoons of cherry filling or any other filling that you like. I used store bought cherry filling used for making pies.
On top of the cherry filling, spread whipped cream.
Place the other halved cake over the whipped cream.
Cover the cake with whipped cream, use angled spatula to spread the whipped cream.
You could use Homemade Strawberry filling instead of cherry filling
In a saucepan, add the halved strawberries along with the sugar.
Cook over medium heat, stirring occasionally for about 20 minutes till it's mashed up and the sauce has thickened.
Remove the pan from the heat and let the sauce cool down.
Spread the strawberry sauce over one of the halved cakes.
For decoration: I pipped some whipped cream into rose shape, topped with cherry from the filling, I even made some drawings (see the picture) using the cherry syrup.
Sprinkle the cake with shaved chocolate.
Be creative and make your own decoration.
Let the cake set for sometime, refrigerate it.
Cut into slices and serve.
Notes
-It's good to make 2 cakes instead of cutting one cake in half as the cake might fall apart (double up the recipe).

-Add cocoa powder only if you are making chocolate cake.

-For making swiss rolls: Bake the cake in a baking sheet, roll the cooled cake placed over a towel dusted with confectioners sugar.