Refreshing Orange Salad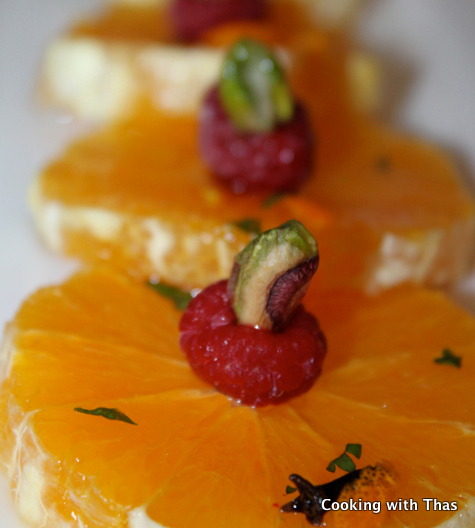 Oranges- 2 large
Granulated Sugar- ¼ cup
Whole cloves- 2
Cinnamon stick- 1
Fresh mint, finely chopped- 1tbsp
Toasted shelled pistachios- ¼ cup
Fresh Raspberries- ¼ cup
Orange peel grated- 1 tbsp
Using a grater, grate the orange peel and keep aside.
In a small saucepan, combine ¼ cup water, sugar, cloves, cinnamon; bring to boiling and reduce heat, simmer until sugar dissolves.
Stir in mint, remove from the heat and let cool.
Remove the skin of the oranges and the white pith from it.
Slice the oranges crosswise into rounds ¼-inch thick.
Place 3 to 4 orange slices on each of 4 plates, top with pistachios and raspberries.
Drizzle with 2 teaspoons of the syrup and sprinkle with grated orange peel.
Serve immediately.