Pepper Mushroom Stir Fry- Easy Mushroom Stir Fry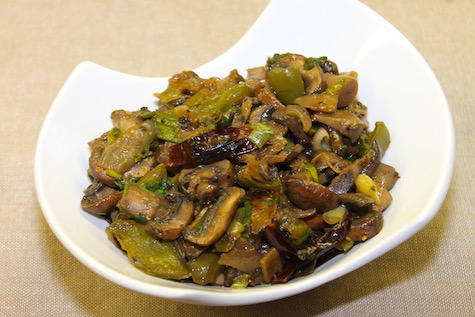 Oil- 1 tbsp
Cumin seeds- ½ tsp
Bay leaves- 2
Garlic, sliced- 2
Ginger, sliced- 1 inch slice
Dried Red chilies- 2, halved
Onion-1, sliced thin
Salt- ¼ tsp
Green pepper, cubed- 1
Mushrooms, sliced- 15 (brown or white)
Ground black pepper- ½ tsp
Soy Sauce- 2 tbsp
Chili Sauce- 1 tbsp
Green onion, chopped- 2 stalks
Cilantro, chopped- ¼ cup
Place a saucepan over medium heat. Add oil.
Add cumin seeds and bay leaves, sauté for 2 seconds till aromatic.
Add sliced garlic and ginger; saute till they turn light golden in color.
Add dried red chilies, saute for 2 seconds.
Add sliced onion, season with ¼ tsp salt and saute for a few minutes.
Add green pepper and mushrooms; combine well.
Add ¼ cup water and cook till mushroom turn soft.
Add ground black pepper, soy sauce and chili sauce.
Stir fry over high heat for a few minutes till dry and slightly browned.
Add green onions and cilantro, combine well.
Serve along with rice, noodles, roti etc.