Instant Oats and Rava Uthappam- Semolina or Sooji Uthappam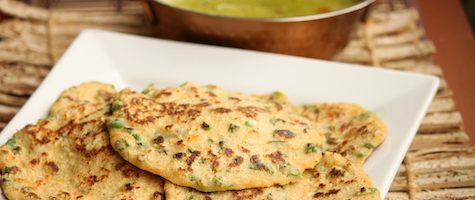 Instant Oat- 1 cup
Semolina or Rava- 1 cup
Ginger, grated- 1 inch slice
Cumin seeds- ½ tsp
Green Chili, chopped small- 1 or 2
Buttermilk- 1 cup (or add ½ cup thick yogurt + ½ cup water)
Water- 1 cup
Salt- ½ tsp
Green onions, chopped- 2 tbsp
Carrot, grated- ¼ cup
Beans, cut small- ¼ cup
Into a blender or food processor, coarsely grind instant oats.
Into a large bowl: add ground oats, semolina, ginger, cumin seeds and green Chili. Combine well.
Add buttermilk and water, combine well and make into a thick batter.
Add salt, green onions, carrot and beans, combine well.
Place a pan over medium heat.
Grease with oil.
Pour a large spoonful of oats-semolina batter. Cover with a lid.
Let bottom side cook well, flip over and cook the other side as well.
Transfer to a plate.
Serve along with chutney or sambar.