Easy Dum Aloo Recipe- Instant Pot Dum Aloo Recipe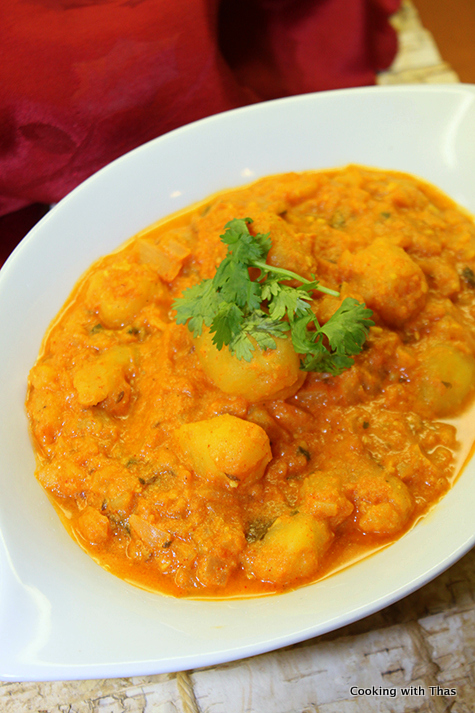 Baby Potatoes- 15
Ghee- 1½ tbsp
Cumin seeds- ¾ tsp
Dried bay leaves- 2
Onion, minced- 1
Almond or Cashew Nuts- 10 (soaked in warm water for 15 minutes, peel off skin and grind to paste)
Homemade Tomato Puree- 2 tomatoes (plunged in boiling water for 5 mins, peel off skin and puree)
Kashmiri Red Chili powder- ½ tbsp
Regular chili powder- ½ tsp (for spice, add accordingly)
Turmeric powder- ⅛ tsp
Coriander powder- ½ tbsp
Garam Masala- ¾ tsp
Salt- 1 tsp
Yogurt, beaten- 1 cup
Dried fenugreek leaves- 1 tbsp (optional)
Cilantro, chopped- 2 handfuls
Firstly: let's pressure cook baby potatoes- I used Instant Pot. You could use pressure cooker or cook in a saucepan over stovetop.
Add washed baby potatoes into the stainless steel pot, add 1 cup water. Close the Instant pot with its lid.
Turn on Pressure cook mode, high pressure, set to 3 minutes.
After pressure cooking, do a natural pressure release.
Drain the water, rinse the potatoes under water taken in a strainer and peel off the skin. Keep aside.
For making homemade tomato puree: Plunge 2 tomatoes in boiling water for 5 minutes. Peel off the skin and puree in a blender till smooth. I didn't cook the pureed tomatoes.
For making almond or cashew nut paste: Soak 10 almonds or cashew nuts in warm water for 15 minutes, this will soften the skin. Peel off the skin. Grind the nuts along with 2 to 3 tbsp water till smooth.
Turn on the Instant Pot, place the stainless steel pot. (Or cook in a wide pan over stove top).
Click on Saute mode- high temperature.
Let it turn hot.
Add ghee, to the ghee add cumin seeds and dried bay leaves. Saute for a few seconds till aromatic.
Add minced onion, season with ½ tsp salt. Saute for 3 minutes.
Add ground almond or cashew nut paste, cook for 2 minutes.
Add tomato puree, combine well and cook for 2 minutes.
Add Kashmiri chili powder, regular chili powder, coriander powder, garam masala and ½ tsp more salt. Combine well and saute for a minute.
Add beaten yogurt and stir well for a few seconds until well combined.
Let the gravy cook for a few minutes.
If the gravy is thick, add ¼ cup water to thin down the gravy.
Add the cooked baby potatoes, combine well and let cook in the gravy for a few minutes.
If using dried fenugreek leaves, add that and chopped cilantro, combine well and cook for a minute.
Remove the stainless steel pot from the main pot, keep covered for 5 minutes.
Serve along with naan, chapati, parathas, poori or rice.