Buttercup Squash and Green Lentil Pulissery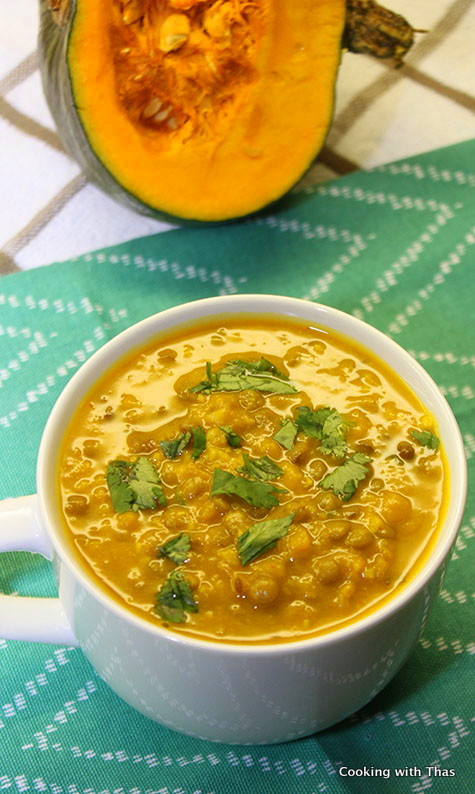 Buttercup squash, cubed- use half of the squash
Green lentils- 1 cup
Chili powder- ¾ tsp
Turmeric powder- ⅛ tsp
Coriander powder- 1 tsp
Curry leaves- 1 sprig
Salt- to taste
Water- 2 cups
Grated coconut- ¾ cup
Cumin seeds- 1 tsp
Garlic, chopped- 1 large clove
Turmeric powder- ¼ tsp
Green chili- 1
Water- ¼ cup
Thick yogurt, beaten- 1 cup
Salt- to taste
I used pressure cooker to cook the squash and green lentils. You could cook in a saucepan.
I only used half of the buttercup squash, peel off the skin and cube them evenly.
In a food processor or blender, grind the grated coconut along with cumin seeds, garlic, turmeric powder, green chili and water to a coarse paste.
Into a pressure cooker, add cubed squash, green lentils, chili powder, turmeric powder, coriander powder, curry leaves, salt and 2 cups water.
Close the cooker with its lid and keep the whistle on it, and cook till 2 whistles or for 20 to 25 minutes till squash and lentil turns tender.
Remove the cooker from the heat and let the pressure subside.
Open the lid, the squash and green lentil should have cooked well.
Add the ground coconut, combine well and cook for a few minutes.
Taste and add more salt if needed.
Beat the yogurt in a bowl and add it to the squash/lentil/coconut mixture
Combine well and cook for a minute. Do not let the mixture come to a boil.
Remove the cooker from the heat and let cool down.
I skipped adding the tempering at the end. If you prefer you could add that too (heat oil in a frying pan, add mustard seeds let it splutter, add dry red chili and curry leaves, saute for a few seconds and pour over the pulissery).
This can be served as a soup or as a side dish along with rice or roti.