Easy Homemade Strawberry Sauce- Strawberry Sauce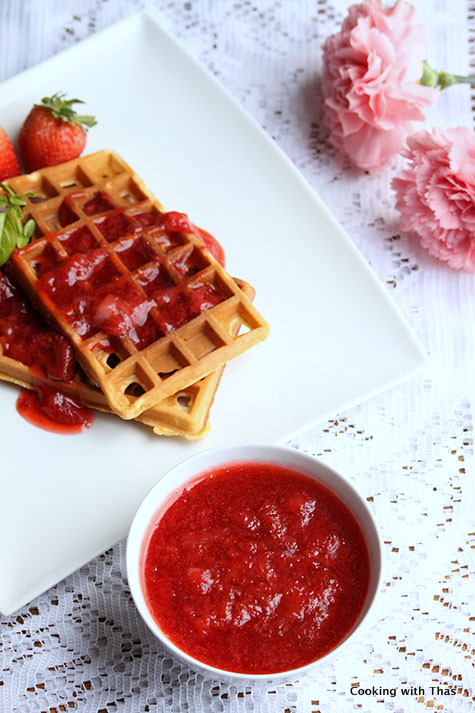 Strawberries, ripe- 1 lb or 2 cups, halved
Sugar- ⅓ cup
Water- ¼ cup
Corn starch- 1 tbsp dissolved in 1½ tbsp cold water
In a saucepan, combine halved strawberries along with sugar and water.
Place the saucepan over medium heat and cook covered for a few minutes till the liquid in the pan starts to boil.
When the liquid starts to boil, open the lid, lower the heat and cook uncovered for about 10 minutes or till strawberries have cooked well and the liquid starts to thicken.
In a bowl, combine 1 tbsp corn starch with 1½ tbsp cold water.
Add the corn starch into the strawberry syrup and combine well, let cook for 5 more minutes until the sauce has thickened.
Remove the pan from the heat and let cool down.
Pour the strawberry sauce over your pancakes, waffles, ice creams, sponge cakes etc.
Leftovers can be stored in the refrigerator.
If you want the sauce to be smooth, you could puree using a hand blender.

Recipe by
Cooking with Thas - Healthy Recipes, Instant pot, Videos by Thasneen
at http://www.thasneen.com/cooking/easy-homemade-strawberry-sauce-strawberry-sauce/