Meen Pollichathu or Whole Fish cooked in Banana Leaf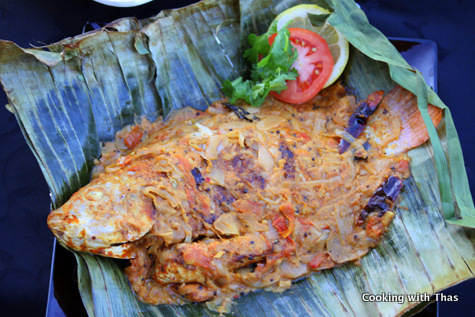 Whole fish- 1, I used whole Tilapia
Ginger-garlic paste- ½ tbsp
Chili powder- 2 tsp
Turmeric powder- ⅛ tsp
Coriander powder- 1½ tsp
Ground cumin- ½ tsp
Lemon juice- 1 tbsp
Salt- to taste
Coconut oil or vegetable oil- 1½ tbsp
Mustard seeds- 1 tsp
Whole red dry chili- 2
Onion, chopped thin and long- 3, large
Ginger, chopped- 2 inch slice
Garlic, chopped- 2 large cloves
Green chili, chopped- 1 or 2
Curry leaves- 1 sprig
Tomatoes, chopped- 1, large
Garam Masala- ¾ tsp
Chili powder- ½ tsp to 1 tsp (add according to your needs)
Coriander powder- 1 tsp
Ground pepper- ⅛ tsp
Coconut milk- ½ cup
Salt- to taste
Banana leaves- 2 large
Coconut oil- 3 tbsp, for pan frying fish
Curry leaves- 1 sprig
In a bowl, combine all the ingredients mentioned for "marinating fish" make a thick paste by adding 1 or 2 tbsp of water.
Have the cleaned whole fish ready. Put gashes on the fish.
Spread the spice paste outside and inside the fish. Let marinate for 30 minutes.
Place a large non-stick pan over medium heat, add 3 tbsp coconut oil and let it turn hot.
Add curry leaves into the oil.
Place the marinated whole fish on the pan, slightly pan fry both sides of the fish till it turns light golden in color. Don't over cook the fish.
Transfer the pan fried fish onto a platter and keep aside.
In the same pan used for pan frying the fish, add 1½ tbsp coconut oil.
Add mustard seeds, let it splutter.
Add whole dry red chilies and curry leaves, saute for a few seconds.
Add chopped onions, season with salt and cook till translucent.
Add chopped ginger, garlic and green chilies, combine well and cook till onions turn golden in color.
Add chopped tomato, cook covered till it's mashed up.
Add garam masala, chili powder, coriander powder and ground pepper, combine well and cook for a minute.
Add coconut milk, mix well and cook for a few minutes till the gravy thickens.
Taste and add more salt or chili powder if needed.
Remove the pan from the heat.
Preheat the oven to 375 F.
Rinse the banana leaves under running water, pat dry with paper towels.
If you want you could wilt the banana leaves by showing it over low heat.
Line a large baking sheet with aluminum foil.
Place one large banana leaf over it.
Evenly spread half of the prepared masala on the middle of the banana leaf.
Place the pan fried whole fish over the masala.
Spread the remaining masala over the fish.
Cover the masala with another large banana leaf.
Fold the leaves together and tightly wrap it. Tie with kitchen twine.
I wrapped along with the aluminum foil as the leaves I used had many gaps.
Place the baking sheet on the lower rack and bake for 20 minutes.
Remove the baked fish from the oven, let cool down for a few minutes.
Unwrap the banana leaves and serve the fish on the leaf itself.
Serve with rice and other side dishes.
You could cook the fish wrapped in banana leaves over stove top.

Place the wrapped fish on a non-stick or cast iron skillet. Cover the skillet tightly.

Place the skillet over low heat and cook for 20 minutes.

After 10 minutes of cooking, flip the fish over and cook for another 10 more minutes.
Recipe by
Cooking with Thas - Healthy Recipes, Instant pot, Videos by Thasneen
at http://www.thasneen.com/cooking/meen-pollichathu-or-whole-fish-cooked-in-banana-leaf/